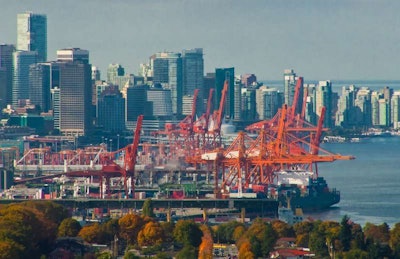 Canadian lawmakers are considering legislation that would heavily fine Port Vancouver's union truckers if they do not resume work after a 90-day cooling-off period.
If approved, the Unifor-Vancouver Container Truckers' Association and seven port companies would have 72 hours to resume talks to end the strike that began March 10. Following negotiations, union members would be penalized $400 per day for not returning to work, while a $10,000-per-day penalty applies to Unifor and employers for interfering with truckers return to work.
The Port Metro Vancouver Container Trucking Services Continuation Act will receive its second reading March 25 before British Columbia House members. It would allow B.C. Labor Minister Shirley Bond to elect to extend the 90-day period an additional 60 days.
Before Bond introduced the measure, the 250-member union said the upcoming legislation would be unlikely to fix what 18 months of negotiations with seven port companies had not.
The legislation would not apply to the United Truckers Association, which has been on strike since Feb. 26. The port's owner-operator organization and the union both complained over wait times and wages.
Mediator Vince Ready had reached a tentative agreement between UTA and Unifor and port companies, but both organizations rejected the federally appointed intermediary's proposal March 8
Bond said Ready would be available to resume negotiations between truckers and employers. Additionally, Ready's review of PMC's trucking operations should be complete by summer.
Meanwhile, port officials say productivity has been returning at PMV's four container terminals. Seventy percent of containers activity at the port is by rail and 30 percent by truck.
On March 19, Port Metro Vancouver announced it had accelerated reformation of the Port's Truck Licensing System and would implant a 14-point plan to improve wait times and wages. The unionized Unifor-Vancouver Container Truckers' Association and United Truckers Association, the port's owner-operator organization, had refused mediator's Vince Ready tentative agreement March 8.
The federally-appointed third-party intermediary had met with truckers to broker the proposal. Ready's independent review of Port Metro Vancouver's trucking operations is expected to be completed by summer.