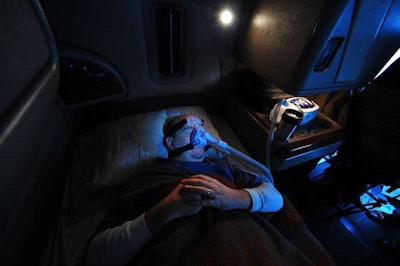 The looming deadline for truckers to be medically certified by examiners approved by the Federal Motor Carrier Safety Administration has ratcheted up the pressure for those who may be at risk for sleep apnea to be tested and treated, said Greg McDermand of Phoenix Sleep Solutions speaking at the Mid-America Trucking Show March 27.
FMCSA's National Registry for Certified Medixal Examiners rule goes into effect May 31, and after that date all drivers must use an examiner from the agency's registry when renewing or first obtaining medical clearance.
McDermand said that because the agency doesn't have formal rules regarding sleep apnea testing or criteria for testing, however, medical examiners must use criteria that increase risk of apnea occurrence, like weight and underlying medical conditions, as a means to relieve themselves of liability in case of a crash.
"Examiners are getting very aggressive because of liability," McDermand said. "They're not comfortable letting people walk out" if they may be at risk for apnea, he said.
Two key red flags for examiners are neck size of 17.5 or body mass index of 35 or greater. Drivers with conditions like diabetes, hyperthyroid or high blood pressure also will flag examiners, McDermond said.
Drivers who walk in to a medical examiners office with any of the above will be told they need to be tested for sleep apnea, McDermand said, and he's hearing frequently from drivers who say the examiners aren't renewing med cards of they haven't been tested.
Because of this, McDermand said, drivers need to be proactive about getting tested so they can bring test results or proof of treatment to the medical examiner when they go in for medical certification.
"I recommend you find a place to get tested so you can walk in with a clean piece of paper that says you're treated with a CPAP or that says yo're negative and they'll leave you alone," he said.
Drivers can get tested at any clinic or testing service they'd like — those examiners don't have to be certified by FMCSA, McDermand said. Drivers only need to be able to show their FMCSA-approved examiner documents showing they've been tested and are being treated, if they tested positive.