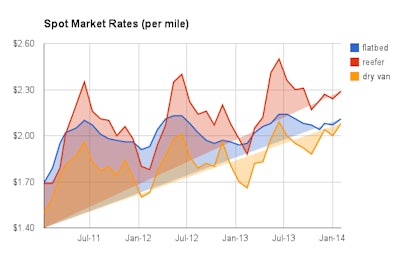 Per-mile spot market rates in all three segments — flatbed, reefer, van — soared upward in March, according to data released April 1 by loadboard Internet Truckstop. Flatbed and dry van rates hit all-time highs in the time Internet Truckstop has been keeping records, since 2005.
This is the second straight month rates in all three segments surged, coming on the heels of February's rebounds in rates after each segment saw a small fall in January, likely due to severity of the year's winter.
Dry van rates in the month hit $2.19, besting July 2013's previous record of $2.09 a mile and rising 11 cents from the month prior. Dry van first hit the $2 mark in July 2012 and were only above that threshold twice in all of 2013, but March was the fourth consecutive month van rates were higher than $2.
Van rates in March were 37 cents higher than in March 2013.
Reefer rates posted a near all-time high, too, surging 12 cents to $2.41 a mile, the highest since June 2013. Reefer rates in the month were 36 cents higher than the same month in the previous year.
Flatbed rates, usually less volatile than van and reefer, jumped 9 cents to $2.20 — also an Internet Truckstop record. Flatbed rates usually move by only a few pennies each month and have been between $1.94 and $2.14 since March 2011. As weather warmed in the month, flatbed load demand in construction and other weather-sensitive sectors likely contributed to the increase.
Economists and researchers have been predicting rate increases for the year based on tightening capacity caused by restrictive regulations and improving freight market.