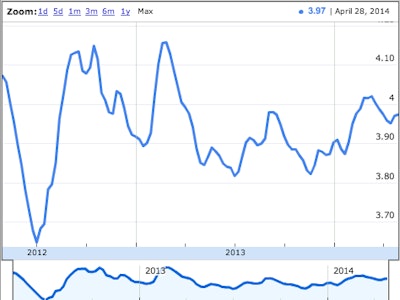 The national average price for a gallon of on-highway diesel rose again in the week ended April 28, climbing four-tenths of a cent to $3.975.
This is the second straight week the price of diesel has increased, marking the first consecutive week-to-week increases since late February — the tail end of a five-week string of increases.
Compared to the same week last year, the price is up 12.4 cents, as there was an early spring string of decreases in 2013. The year over year disparity is even higher regionally, with the New England and Central Atlantic regions posting 21.5- and 25.1-cent differences.
Those two regions, along with the broader East Coast region, also posted some of the week's only week-to-week drops. The Central Atlantic led all price decreases with a six-tenths of a cent drop, followed by the East Coast's five-tenths of a cent decline and the New England and Lower Atlantic's four-tenths of a cent drop.
California led all regionally increases with a 3.8-cent jump, followed by the West Coast's (including California) 2.5-cent increase and the West Coast less California's nine-tenths of a cent increase.
The New England region still has the country's most expensive diesel, $4.208 a gallon, followed by California's $4.140, the Central Atlantic's $4.185 and the East Coast's $4.065. All other regions, except for the West Coast, are below $4.
The Gulf Coast has the U.S.' cheapest diesel, $3.824, followed by the West Coast less California's $3.954.