For some reason, I haven't been sleeping well this time out. The weather has been mild, so we haven't been idling, and that's one reason. It seems like no matter where George parks, before the night is over, a 400-year-old reefer unit will slide in beside us and plop a squealing, gasping unit right beside our heads. I'm not dissing the reefer haulers. We appreciate you hauling our food and refrigerated goods around, but sometimes it's aggravating to listen to, and you've gotta admit the older units are hell on a quiet night.
We were in Colby, Kan., at the Pilot off of exit 53 for the night. I need to take a moment here and give huge props to Jason Storey, the general manager of the store there. We were there about 18 hours and I don't think the guy left the whole time. His meticulous attitude towards making sure our home away from home was comfortable and clean did not go unnoticed. I get the feeling Jason spends very little time sitting behind his GM desk — we met him while he was unloading product from boxes onto the shelves, and wouldn't have known he was the GM if he hadn't had it displayed on his name tag. Thank you, Jason; we really appreciate you and your staff's dedication.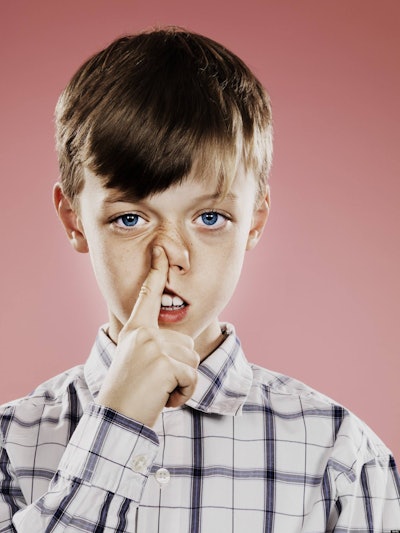 We were doing the morning pretrip thing where George and I split up and handle our personal business before setting out. I'm going to admit I was already a little cranky. Lack of sleep is one of the few things that can make me as mean as tequila. I grumped my way to the bathroom and locked myself in the stall to do what I needed to do. About thirty seconds into it, a little boy bursts into the bathroom at light speed. He pushed on all the doors, and they all flew open, until he came to mine. When the door didn't open, he flopped himself down on the floor and crawled under it.
Imagine this scene: I'm already grumpy as hell, haven't even begun to do my business, and a little kid I didn't give birth to or know from Adam crawls under the bathroom door and stands there staring at me.
"Uh, where's your mom?"
Silence and staring. I can't stand up to pull my drawers up without flashing what the good lord gave me to a little kid, and I'm immediately uncomfortable as hell. Thoughts of being arrested for indecent exposure to a child are racing through my head.
"Do you have an adult here with you?"
Silence.
"Can you talk?"
Silence.
About that time, a lady bursts into the bathroom, yelling for the kid. He refuses to come out of my stall, so she gets down on her hands and knees and sticks her head under. By this time, I've lost all hope of actually using the bathroom, and am just praying to get my ass covered up before the dad and the rest of the family barge into my stall. She drug the kid out, didn't bother to apologize to me, and took off. I got up and left as quickly as possible, for fear the entire population of Colby, Kan., may be on their way to stick their heads under the door of my stall.
Sometimes, life on the road is hard.