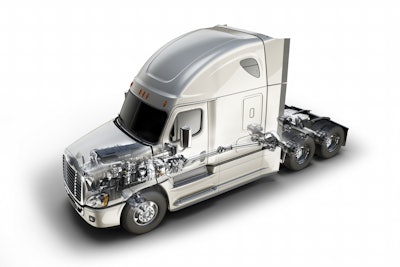 Detroit announced Thursday a new fully integrated powertrain package that includes its DD15 engine, DT12 automated manual transmission and Detroit axles. The package will be available for the Freightliner Cascadia Evolution in January and for the Wester Star 5700 later next year.
The powertrain package offers a new down-sped rating for the DD15 at 400hp and 1,750 lb./ft. of torque. The new rating allows the engine to turn at lower rpm regardless of road speed, which helps boost fuel efficiency while still delivering the necessary torque, Detroit says.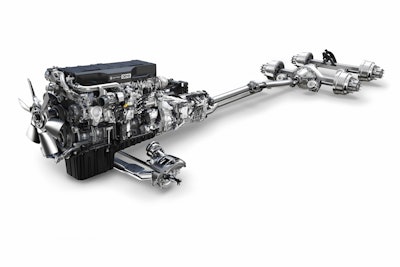 The engine also features a six-blade fan to cut parasitic loss.
The DT12 transmission in the package has Intelligent Powertrain Management that uses pre-loaded terrain maps and GPS to know the route ahead and automatically adjust transmission and engine functions.
The DT12 also features what's called eCoast, a technology specific to the DT12 that allows the engine to operate at idle of 500 rpm when road and driver inputs don't require engine power to move the truck down the road. It also employs a "creep" mode, which improves low- speed maneuverability, Detroit says.
The axles included in the integrated powertrain are a 6×2 configuration designed to work with the new 400hp DD15, but a 6×4 configuration is also available.
"We have an internal target of achieving 5 percent fuel economy (savings) every two years," said Daimler Trucks North America marketing manager David Hames. "IDP is another 5 to 7 percent, depending on baseline, over Cascadia Evolution."