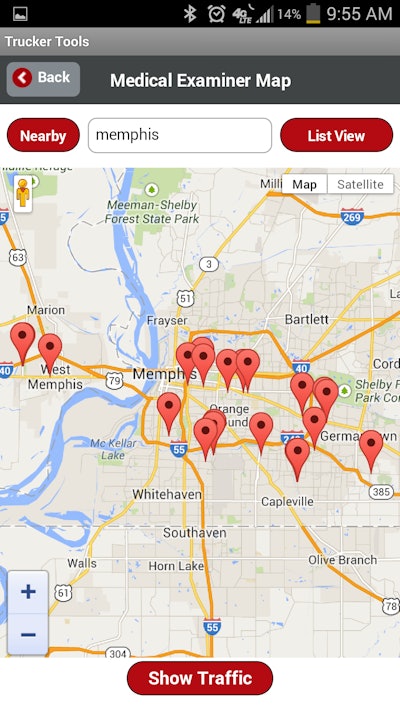 The federal rule requiring drivers to see an FMCSA-approved medical examiner for their DOT medical certification took effect May 21, and in line with that, Overdrive has released in its Trucker Tools smartphone app a new function to help drivers find medical examiners based on their location and via search.
The listings in the Truckers Tools app come directly from FMCSA, and it's updated each morning, so the list stays current. The agency's listings are available online, but their system can be hard to use from a mobile device and on the road, which is where drivers will more than likely find themselves when in need of a re-certification of their med cards.
To find an approved examiner from the registry, all a driver has to do is open the app and tap the Medical Examiners button. The app will use the phone's location services — both cellular network and GPS signal — to pull up a list of examiners within a radius of up to 100 miles.
The listings are sorted by proximity and give the name of the examiner, what type of examiner he or she is (M.D., nurse practitioner, chiropractor, etc.), address, hours of operation, distance from the driver's location, a button to call the facility and a button that launches a map with directions to the facility.
The app also has predictive and convenient search that allows drivers to search any portion of a listing — doctor's name, facility name, street address, city and more — to find an approved examiner.
It's suggested that drivers have their phone's GPS switched on when using the medical examiner functionality within the app.
FMCSA's National Registry of Certified Medical Examiners rule went into effect May 21. Click here to read Overdrive's coverage of the rule's effective date.
FMCSA's registry is available on its website — Click here to see it.
Overdrive's Trucker Tools app also tools to help drivers find truck stops, see fuel prices, find service location and Walmarts, optimize routs, find rest areas and weigh scales, obtain permits, factor and submit invoices, check the weather and access Overdrive's mobile website.