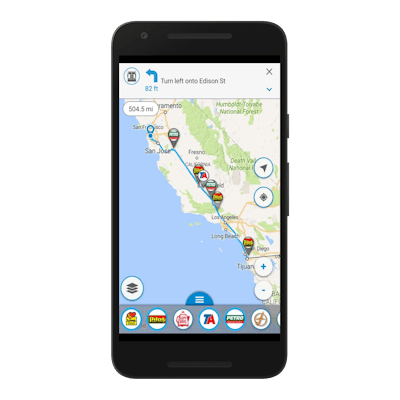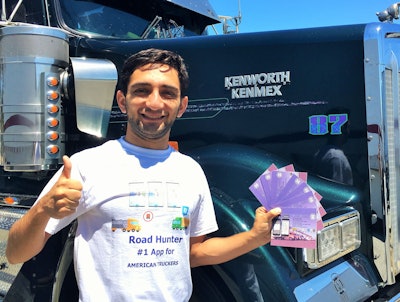 Mikhail Dzarasov, pictured here, has been steeped in trucking business since he came to the U.S. five-plus years ago after getting a green card. (He's on his way to citizenship today.) Friends and relatives from the Russian region of Northern Ossetia who'd also emigrated to the U.S. established trucking businesses in Chicago and elsewhere, and Dzarasov was along for the ride as a helper in some instances, and working with brokers and driving hotshot freight in a smaller truck in others, before he turned 21, when he intended to get his CDL.
But with six months left of age 20, the now-24-year-old Dzarasov was spinning his wheels and "couldn't see just sitting around doing nothing," he says. He moved to California's Silicon Valley, and utilized his software-development knowledge to secure work with traffic/route-information provider Telenav, all the while mulling over creating an app to help truckers in some ways.
In the subsequent several years, that's exactly what he's done with Road Hunter, free on both Android and iOS platforms: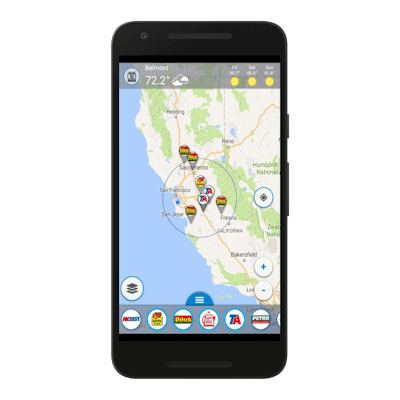 It's a route-planner-type app at heart, with map views that piggyback on Google's map-, street- and satellite-view capabilities to deliver 100,000-foot and on-the-ground intelligence about a variety of locations and points of interest along the way. "I had great advisers," he says of those who helped him out with just what to include — "real truck drivers."
The newest feature — a view that shows weather and severe weather alerts from the National Weather Service — is the result of such conversations.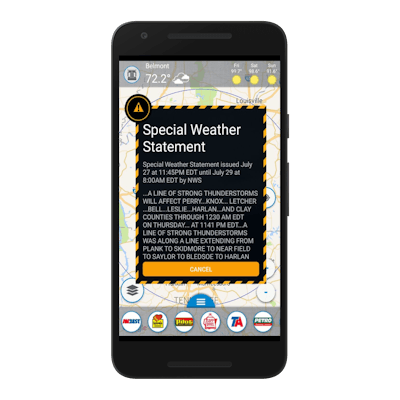 In addition to the kinds of alerts shown in the screen shot above, the Severe Weather map view overlays the National Weather Service's severe advisories for counties across the nation. The idea for the feature "came from truck drivers."
Otherwise, drivers can filter points of interest along their routes by utilizing the toggles along the bottom for truck stop brands, rest areas and other locations.
Low-clearance bridges, too – Dzarasov continues to fill out the app's nationwide index of low-clearance bridges across the United States.
"We didn't buy this data," he says, but rather are relying on feedback of users as well as personal research. Ideally, with each low-clearance location, Dzarasov aims to index a picture of the bridge itself, whether from a driver or through Google's street view function, in order that driver might see the sign that shows just how low. "Truckers can see the information about the bridge," he says. "If there is a picture of the real bridge with a sign, it's a greater trust thing."
With just six months gone now since the app was launched in the Android and iOS marketplaces, it's been downloaded more than 20,000 times. Find more about it at this link.