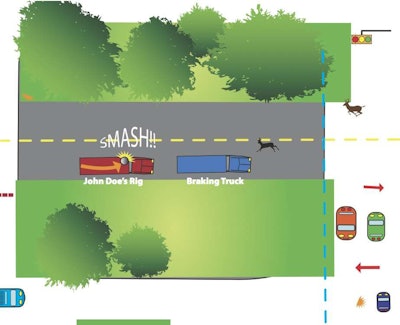 While dropping off a palletized load of drums for a pool supply shop, truck driver John Doe supervised the unloading process briefly, exchanged paperwork and then ran to the shop's employee vending area to grab a cup of coffee.
When Doe returned to his truck, he saw the shop's forklift operator loading a 55-gallon drum onto his flatbed. It needed to go across town to the pool supply shop's other location. So Doe found some rope and secured the drum to a section of rub rail by the rear door. The rest of the trailer now was empty.
Just after leaving the supply shop, Doe was heading down the highway at 55 mph, following another truck.
Suddenly, a deer came out of the trees to the right of the highway and ran in front of the truck Doe was following. The driver of that rig hit the brakes hard, and Doe followed suit.
The hard braking caused the lone drum on Doe's trailer to break free and slide down the length of the metal-floored trailer. It smashed into the header and damaged it severely.
Doe's carrier hit him with a preventable accident warning, which he promptly contested.
The National Safety Council's Accident Review Committee was asked to make a final ruling and quickly ruled in Doe's favor, saying he had been traveling at a safe speed for the conditions and was following at a safe distance. The stop was totally controlled, the committee ruled, and Doe had no way of anticipating that the pool supply shop's rope was faulty.
This was an adaptation of Overdrive sister site CCJ's "Preventable or not?" series, which appears regularly on CCJdigital.com.