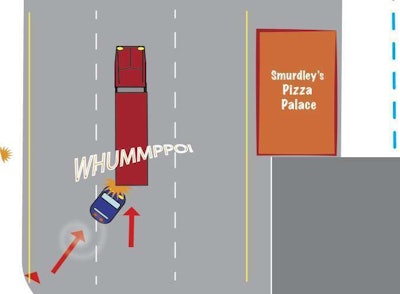 Truck driver John Doe was heading east on a three-lane one-way highway in Alabama, rolling along in the center lane, when he noticed a big cloud of smoke coming from up ahead in the left lane.
The smoke, he soon noticed, was coming from the old tailpipe of a 1955 Buick Roadmaster that apparently had quite a thirst for 10W-40.
Doe rolled his window up to keep the smoke out of his cab and prepared the past the old sedan.
About the same time, the driver of the Buick saw a sign for a pizza place two blocks up and zoomed into the center lane without a turn signal in an attempt to pull in.
In the process, he slammed into Doe's trailer, damaging the left rear wheel some. The old Buick was unscathed.
Doe later received a preventable-accident ruling from his carrier, which he promptly contested.
The National Safety Council's Accident Review Committee made the final decision, ruling in favor of Doe, saying he could not have anticipated the wild lane-change by the driver of the Buick.
This was an adaptation of Overdrive sister site CCJ's "Preventable or not?" series, which appears regularly on CCJdigital.com.