Every day I ride in the truck I spend at least a few minutes looking out the window and marveling at the fact more people aren't killed in horrific, fiery crashes on a daily basis. I watch the uncountable numbers of distracted drivers who zip around us while looking directly into the screens of their phones, apparently driving with some sort of Jedi mind force, because they sure as hell ain't got their eyes on the road. I watch people have elaborate meals, involving chopsticks and several cartons, while they hurtle at high rates of speed in fiberglass juggernauts of death over bombed-out highways. I watched a chick shave her legs while crossing the bridge in Cincinnati, over into Kentucky. She was also talking on the phone. She had baby wipes, a razor and lotion, and was grooming herself with the expertise of a gibbon, while racing across a pencil-thin bridge in rush hour traffic.
I am amazed we're not involved in 12 crashes a day, 15 on the days we drive in Dallas. I go to bed every night thinking, "We lucked out and made it through another one. Thanks be given."
Up until about a week ago, George had never had an accident in any kind of vehicle – commercial or otherwise. His driving record was so squeaky clean it's completely amazing he's driven the number of miles he has. His winning streak was broken for him in North Carolina, by a four-wheeler who was going too fast and rear-ended us on the highway. I-26, mile marker 54, to be exact.
We had just come up that last little hilly part in South Carolina and were in the valley right inside North Carolina. I was reading e-mails – I had just gotten service back after the little hiatus you have through Cherokee National Forest. George was concerned about the truck — the radiator leak was getting worse and all we had to do was get the load of candy we had to Kentucky and limp our baby back to Howard Truck Repair for some more work. (I think she has a crush on someone in the bay: we may have to nip her fondness for them in the bud.)
He was in the slow lane, going right at 55, nursing her through the last of the hills. He had just set the cruise when we both felt the bump, but thought different things. He immediately checked the mirrors and didn't see anything, then started looking at the gauges, because he thought we had blown something.
"Somebody just hit us."
"I looked, I'm looking right now, there's nothing back there."
"Somebody hit us."
He signaled and started moving toward the breakdown lane, and when he started moving toward it, he finally saw the Toyota pickup truck, coasting to a stop. When we got stopped and I could finally see the thing, I thought we were going to have to go use all of our combined first-aid knowledge immediately. The front end of the little truck was torn the eff up. There's really no other way to put it.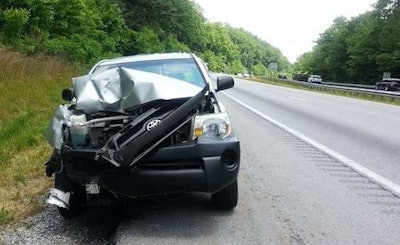 George had the big truck parked and the brakes set and was out of it, sprinting back to the driver of the four-wheeler to see if they were OK. He got there before I had my shoes on good and was out on the safe side of the truck, trudging up the hill. Against all odds, a little old man climbed out of the destroyed truck with a tiny cut on his knuckle, and nothing else. He was shook up pretty good, but he wasn't hurt. Did I mention his truck was destroyed? Because it totally was.
I sat with the guy while George made the calls to 911, and the safety department for Landstar. The guy in the little truck let me clean his hand off and check his pulse (after I told him I was a nurse), and I let him use my phone to call his wife. We sat together and talked for a few minutes, waiting on the State Patrol to come. He was a really nice man. He said he didn't know what happened — he must have been looking in his mirror to pass and misjudged his distance. He said he had been driving more than 60 years and had never had a wreck. He was so sweet and told me not to bother even showing them our insurance card, because the accident was his fault, plain and simple. I told him I wished it was that easy, but we were probably going to have a lot of paperwork to do and have to have an inspection to get back on the road.
He broke my heart by being so upset for causing us problems, and I really wanted to be mad at him for following too close and going too fast (the speed limit is 55 through that stretch – it's a no fly zone), but I couldn't. He had just had an accident, and accidents happen, and I was a little afraid he might go into shock on me, because he was pretty elderly. He refused medical attention when the squad got there — jerked his thumb towards me and told them he already had a nurse check him out. He was making jokes and trying to shake the heebie jeebies off from the wreck. We were all extremely fortunate to be unharmed.
We got lucky twice and had a North Carolina State Trooper who was absolutely fantastic about getting us right back on the road. He was way cooler than he had to be, and he didn't see any reason to call the DOT or have us inspected on the side of the road, which was awesome. The only damage the trailer sustained was a slightly bent ICC bumper. He said he knew we'd have to have an inspection from our company anyway. He didn't see anything visible that should warrant inspection, and George was not at fault in any way. He even told us to have a good day. So yay for North Carolina State Patrol.
Here's the unlucky part. Safety says one point will be levied for their CSA because a vehicle had to be towed from the scene. OOIDA told us to wait a couple weeks and pull a PSP (Pre-Employment Screening Program) report, just to make sure nothing crazy is on it. We've heard horror stories of no-fault accidents ending up with associated violations after the post-crash inspection and untold points assigned to the driver's carrier, those violations then showing up on driver PSP reports. That's just crazy.
Who is to challenge the authority of the North Carolina State Patrol if one of their officers investigates the scene of an accident and determines there is no fault with the commercial driver? Who has the authority to overstep those bounds, and why? Sure as shit if it had been George's fault, the word of the law would be steadfast bible verse that no one would question.
Once again, I'm extremely thankful no one was hurt. Neither one of us is happy about the accident being reported as just an accident, with no indication on official record that it wasn't his fault. It kind of sucks for him to not have his perfect record anymore; it's something he's always been conscientious about. I keep telling him only one wreck in driving (all kinds of vehicles) for 29 years is a damn fine run. He doesn't care much, but he's still pretty grumpy about it.
Sometimes, trucking is hard.