They shouldn't be assigned severity weights to contribute to a carrier's ranking in any Compliance, Safety, Accountability BASIC (Behavioral Analysis and Safety Improvement Category) if the violation was a result of the crash. Unfortunately, according to a carrier in attendance at the Commercial Vehicle Safety Alliance's "Life Cycle of a Roadside Inspection Violation" workshop in Louisville April 22, this fact has gone overlooked by some officers in the unfortunate atmosphere of a post-crash melee.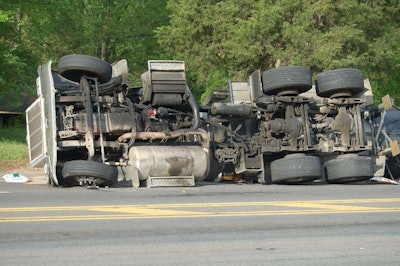 In essence, officers have an area on their inspection reports to mark any violation as occurring as the result of a crash. "Post-crash inspections are tough," said a Kentucky State Police officer that was part of the presentation at the CVSA workshop. They're oftentimes performed right there "at the scene" of the crash itself, he added, and in situtations where damage is extensive, "we could go on for days with violations."
"It really comes down to the officer wanting to document the conditions that need to be fixed before the vehicle can get back on the road," said FMCSA Associate Enforcement Administrator Bill Quade, explaining the reasons for documenting the violations on the reports. "Different states do use it differently, but if [the violation] was a result of the crash, the carrier doesn't get any points in the CSA system."
Or shouldn't. It's a good idea to double-check inspectors' work after post-crash violations are documented to ensure they're not contributing to your own or your carrier's CSA percentile rankings once they're uploaded to the federal database. "If they do, that can be DataQ'd and it can be fixed," Quade added, referring the DataQs system for carrier challenges to inspection violations.
Have you seen post-crash violations show up with severity weights in your CSA profile?