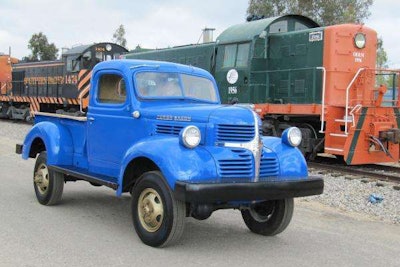 Antique trucks May 5 in California
Tomorrow, if you're anywhere near the vicinity of the Orange Empire Railway Museum in Perris, Calif., stop in for their annual Antique Truck Show. The single-day special event at the heritage railway park there will feature hundreds of restored, vintage trucks — from semis and pickups to delivery vehicles, fire engines and farm equipment — in addition to rolling locomotives and street cars.
Co-sponsored by the American Truck Historical Society Southern California Chapter and the museum, the event opens at 9 a.m. and runs through 5 p.m. with trucks on display until 2:30 p.m. Admission is $7 ($5 for ages 5 to 11) . A $12 pass ($8 for ages 5 to 11) will include the truck show and rides on electric trolleys and diesel locomotives. Age 4 and under can enjoy the day for free. For more information, follow this link.
Lame excuses department
What's the No. 1 excuse four-wheelers use when pulled over for a traffic violation? According to the kind folks at Insurance.com, it's "I couldn't see the sign telling me not to do it." Probably a reference primarily to speeding, of course, a behavior we know too well that too many are engaged in today. How'd the rest of the excuses shake out? See below, and note No. 10, having to do with computers' slow but inexorable road to the domination of man — though it did rank pretty far behind "Everyone else was doing it" (No. 4), apparently blaming the GPS for your problems now seems a plausible enough thing to do when you want to get out of the old personal responsibility thing. (And get this, ladies, 82 percent of those who noted that excuse as one they'd used were men.)
1. I couldn't see the sign telling me not to do it: 20.4 percent
2. I'm lost and unfamiliar with the roads: 15.6 percent
3. I didn't know it was broken: 12.4 percent
4. Everyone else was doing it: 6.4 percent
5. I'm having an emergency situation in my car. (For instance, spilled a hot drink on your lap.): 5.4 percent
6. I missed my turn/exit: 4.8 percent
7. I had to go to the bathroom: 4.6 percent
8. I didn't do anything dangerous: 4.2 percent
9. I was on my way to an emergency. (For example, to help someone who is ill or injured.): 4 percent
10. My GPS said it was the right thing to do: 2.2 percent
11. I'm just helping out; I wasn't even supposed to be driving. (For example, your friend is intoxicated.): 2 percent
Source: Insurance.com; find full survey results here.
I don't know how 'hidden' it is, exactly
…but according to a new infographic emphasizing the immense size and importance of the trucking industry to the U.S. economy, trucking accounts for a quite staggering share of the freight transportation in the U.S., with 83.7 percent of the revenue, following closely by rail at 5.4 percent. Not that you need reminding of that, exactly, likewise much of the detail in the graphic, created by the folks at uShip. Nonetheless, click through the thumbnail of the top of the graphic for the full juice if you're curious. And for that nontrucking hater who's always cracking stereotypical jokes when you come around, it might well serve as antidote to dismissiveness (though part of me can hear him now: "You guys are always talking about how danged important you are!"… eh, worth a shot). Seriously, as these things go, it's a pretty nice one. Check it out.