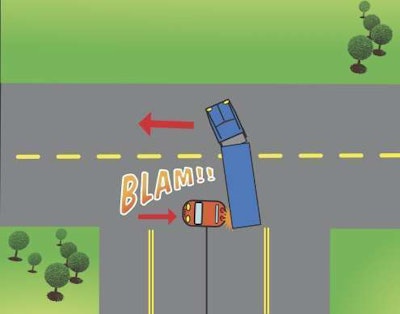 Truck operator John Doe approached a traffic light on Route 202 in Arkansas, and as he arrived at the green light to make a left turn, he noticed an old Dodge Charger stopping at the red light in the cross street.
The Charger stopped about halfway through the intersection and left Doe little room to get around him.
Doe waited for the young driver to back up to give him more room, but when he didn't, Doe checked his mirrors, saw he had plenty of room and carefully backed up a few inches to prepare to complete his turn.
Just as he started moving forward, though, the Charger driver got the green light, and he punched the gas and tried to get around Doe. But he missed his target and ended up hitting the back of Doe's trailer.
To his surprise, Doe received a preventable accident warning from his carrier, which he contested. The National Safety Council's Accident Review Committee was asked to make a ruling, and it promptly ruled in Doe's favor, saying he could not have anticipated nor prevented the poor maneuver by the driver of the Charger.
This was an adaptation of Overdrive sister site CCJ's "Preventable or not?" series, which appears regularly on CCJdigital.com.