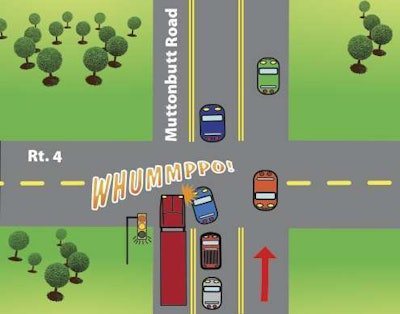 Truck driver John Doe was traveling along about 55 mph on a one-way road. He was in the far left lane and was approaching the in intersection with Route 4. The light turned green ahead of Doe's arrival, and his lane had no traffic.
He had decelerated to 35 mph before entering the intersection, where vehicles in the center and right lanes started to move into the intersection.
Suddenly, a green Mercury Cougar in the middle lane caught Doe's eye, and its turn signal was flashing.
Doe realized the Cougar was about to jump across the front of his rig to take the left onto Route 4, and he hit the brakes, sounded his horn and swerved to the left.
The car's driver, however, tried the maneuver anyway, slamming into Doe's right front fender. Everyone was OK, though not happy.
To Doe's surprise, he received a preventable accident warning from his safety director, which he contested. The National Safety Council's Accident Review Committee was asked to make the final verdict, and it ruled quickly in Doe's favor. The NSC said there was nothing Doe could have done to avoid being hit by the Mercury.
This was an adaptation of Overdrive sister site CCJ's "Preventable or not?" series, which appears regularly on CCJdigital.com.