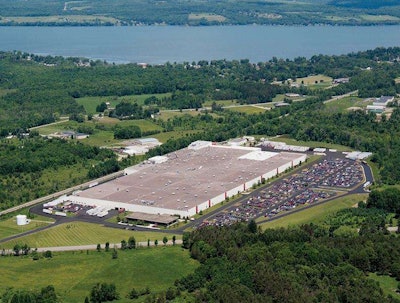 Cummins celebrates the 40th anniversary of its Jamestown Engine Plant (JEP) in Jamestown, N.Y. Typically, more than 400 engines are built per day at JEP, and the plant produced its 1.5 millionth heavy-duty engine in the summer of 2013. Each of the plant's engines meets the emissions regulations in every part of the world to which they are shipped.
"The Jamestown Engine Plant plays a critical role in our company's ability to produce a broad range of diesel and natural gas engines for different customers around the world," said Cummins Engine President Dave Crompton, "This anniversary is a testament to our more than 1,500 employees at JEP who produce reliable, clean and fuel-efficient engines that enable our customers to be successful in all of the markets they operate."
Cummins acquired the more than 1-million-square-foot facility in 1974, using it initially to manufacture engine components. The plant produced its first engine in 1979. Today, it builds on-highway engines, including the ISX15, ISX12 and ISM diesels. The ISX15 and ISX12 engines serve both the U.S. and Canadian markets, while the ISM is currently exported to Mexico. JEP also produces the Cummins Westport ISX12 G spark-ignited natural gas engine.
Engines produced at JEP power numerous types of applications, from line-haul trucks to RVs and even fire trucks. In addition to these on-highway applications, JEP also produces the QSM and QSX engines that serve off-highway customers in construction, agriculture and marine applications.
The plant also plays an important role in improving life in western New York. It's the largest private employer in Chautauqua County and the largest contributor to the local United Way. JEP is also an active participant in the Cummins Every Employee Every Community program, which allows employees to work at least four hours per year on a public-service project on company time.
"We take Cummins' commitment to community service and improving the communities in which we live very seriously," said Mike Abbate, JEP Plant Manager. "I'm tremendously proud of what our employees are doing inside and out of our plant to make western New York a better place to live. This anniversary is a great time to celebrate and salute their many contributions to our company and the community. We owe gratitude to our former and current employees, who have been and continue to be the reason why we are a successful company."