Imagine this: you're sleeping peacefully in a delightfully cool truck that's nice and dark, because the curtains are all closed. You're dreaming of biting into the crispy, light crust of your Momma's fried chicken and anticipating the delicious pop of the golden skin, when this happens.
"WHY IS MY TRAILER SO DIRTY? THAT STUPID DISPATCHER CAN KISS MY A__! THIS THING IS HEAVY AS HELL!!!"
"WE'VE GOT THREE HOURS, I'M NOT ABOUT TO RUN OUT THERE RIGHT NOW!!"
"WHY THE HECK ARE THEY TRYING TO SEND ME THERE WHEN I NEED A RESET?"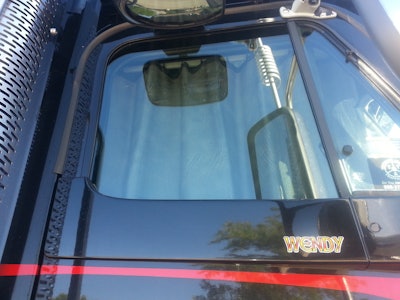 Immediate fury is no way to be awoken. This is grounds for being shot, as far as I'm concerned. Here's a tip that I'm sure most of you all know, but apparently there are those who don't. When you're in a truck stop and there is a truck with the curtains closed (and it's 6:30 in the morning), you do not stand beside it and yell to your buddy, who is parked on the other side of it. Especially if said truck contains an excitable, cranky woman who really enjoys dreams about her Momma's fried chicken.
I yanked the curtains open.
"What. The. HELL is your problem!? Did you not see the closed curtains? Was it the daylight that confused you?"
Blank stares.
"Where are you from?"
"Nebraska."
"Well here's a tip, buddy, you can yell as loud as you want and they still can't hear you in Nebraska. So shut it and pick up the phone if you feel the need to gripe. There are people trying to sleep here."
This is where I slam the curtains and wish fervently they made the same sound as a huge door slamming.
"I guess you woke her up."
Pure genius, that guy.
This is where I make my mind up to write a fictional story about how a guy stands beside a truck with the curtains closed yelling and his head explodes. It makes me feel better, and I decide to let him live another day. I drift back off to sleep, but the fried-chicken dreams have been replaced by truckers from Nebraska screaming at each other while I'm trapped in the cab of the truck and can't scream back at them. Sometimes, sleeping on the road is hard.