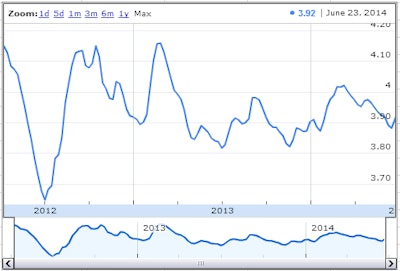 The national average price for a gallon of on-highway diesel rose 3.7 cents in the week ended June 23 to $3.919, according to the Department of Energy's Energy Information Administration.
That increase broke a string of seven weeks in a row that the national price had fallen, last week hitting its lowest point since the end of 2013.
The DOE predicted in April the national average price would drop this summer to an average of $3.87.
Year over year, the average price is up 8.1 cents.
Prices for the week rose in all regions of the U.S, surging 5.9 cents on the West Coast, 4.3 cents on the Gulf Coast and 4 cents in the Midwest.
California had the country's most expensive diesel at $4.119 per gallon, followed by New England's $4.102 and the Central Atlantic's $4.071.
The Gulf Coast, despite the jump this week, still had the country's cheapest diesel, $3.813, followed by the Midwest's $3.875 and the Lower Atlantic's $3.893.