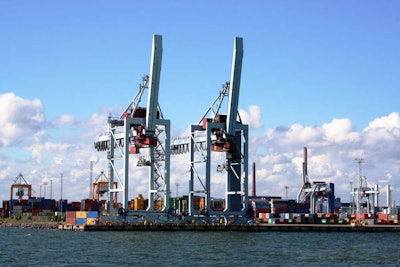 The Port of Los Angeles has reported no cargo traffic disruptions during the first day of an indefinite truckers strike over wages and working conditions at three area drayage companies.
Justice for Port Truck Drivers announced the work stoppage July 7 over the "unfair labor practices" at Green Fleet Systems, Total Transportation Services and Pacific 9 Transportation. The Teamsters affiliated group has backed three previous strikes in the last two years, each lasting less than 48 hours, at these carriers serving Southern California ports.
The Teamsters charge the three carriers have violated labor laws and interfered with unionization efforts.
POLA officials said a handful of protesters were present at two container terminals and two other cargo container terminals were closed for reasons unrelated to the dispute. "Ships continue to be worked at those terminals," they stated.
GFS and the union are scheduled for oral arguments Aug. 25 before the National Labor Relations Board. The Los Angeles NLRB office stated it vacated the carrier's informal settlement with the union because the company violated it by illegally attempting to interfere with unionization efforts.
Green Fleet has said most of its company drivers do not support the union and owner-operators are a minority of the carrier's truckers. The board had disregarded the company's evidence of the union's "heavy-handed misconduct," according to a June 20 GFS statement.
Meanwhile, the International Longshore & Warehouse Union and Pacific Maritime Association are negotiating a new labor contract. Nearly 20,000 dockworkers were represented by the six-year coast-wide labor agreement that expired July 1.