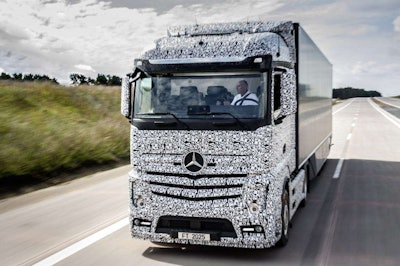 Overdrive Equipment Editor Jack Roberts has spent the last two weeks in Europe — which caps another week-long trip in May — to catch introductions from major truck and component manufacturers of some of the most technologically advanced rigs the world has seen, including an autonomous tractor-trailer, new smart axles and transmissions and a combo that can be piloted from outside the cab with tablet computer.
He penned a full blog post on OD sister site CCJ about what all of this technology means for the industry (which you can read here), making the point that big, revolutionary changes are coming to the industry — and likely within the next decade.
The technological revolution that began in the 1990s is culminating in self-driving trucks and other technology that will fundamentally change trucks, fleets and drivers, Roberts writes, pointing to Daimler's self-driving/autonomous truck, Meritor's "intelligent axle" and ZF's new automated transmission and Smart Truck Maneuvering system (all introduced in the last 6 weeks) as examples.
Truck driving will still very much be a viable profession in 10 years, Roberts says, but they may have the option to turn on an auto-pilot in heavy traffic and let the truck drive itself while the driver rests.
They may also be able to climb out of the truck in tight or hazardous parking situations and drive the truck with their phone or tablet.
They could also be in charge of driving a pilot rig that leads two or three other driverless vehicles on cross-country voyages.
And they will also more than likely be more highly trained and more highly paid, Roberts says.
There's money to be made in all of the changes, Roberts says, but its those who can figure out how to leverage the technology that will be making it.
Click here to read his full piece on CCJ.