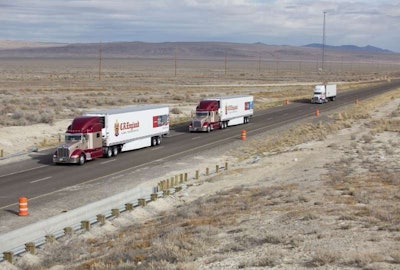 A new software system that would allow multi-truck platooning was showcased that the World Congress for Intelligent Transportation Systems Sept. 10 in Detroit. The system, which is based on features like adaptive cruise control and autonomous braking, was developed in a three-company partnership that includes Meritor Wabco, Peloton and Denso.
The system is touted by the companies as one that can save fuel economy and increase fleet efficiency.
It uses DSRC radio technology from Denso and Meritor Wabco's collision mitigation and safety control systems, and the software as a whole was developed by Peloton.
How it works
Radio transmissions control all factors of the platooning software, said Peleton's Chuck Price, the company's VP of cloud services.
For example, when two trucks are traveling on an open highway and want to platoon, Price says Peloton's system will identify the location of the trucks, which truck should be routed in front and behind, and the distance that will be kept between the two units.
Then, when the trucks reach a reasonable distance from each other, the two drivers engage switches in the cab that start the program, and the trucks are pulled together to the pre-decided distance.
The drivers are still needed to steer, but once engaged, the trucks' speed and braking are controlled by the platoon system, Price says. And while drivers can still manually override the system to break in emergencies, Peloton says the technology is designed to use collision mitigation systems on each tractor to sense and slow the trucks when danger is close.
"When the front [truck] intends to break, the system sees that and engages the brakes on the back [truck] as well," Price says.
Availability/installation
An exact date for the availability of the system was not announced, but it will be available on new trucks and as a retrofit product that will take about three to four hours to install, Peloton says.
Customers will purchase the system hardware during installation, then pay a per-mile fee for usage when implementing the platooning software on the road.
Price adds customers also will be able access driver performance and fuel efficiency data on all trucks equipped with the system.
"The data will come with the system," he says.
And while not available yet, Peloton adds the system has more than 70,000 hours of on-highway testing complete. Price says the company hopes to release the technology in late 2015. He says customer interest is already high.
"We already have fleets ready" for the product, he says.