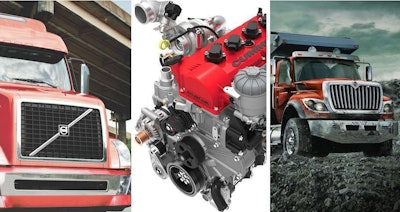 A roundup of equipment-related items that came across the wire this week:
Volvo Trucks announced this week a partnership with Telogis, in which Volvo tractors cane come equipped with Telogis' full suite of integrated fleet management services straight from the factory.
Telogis systems have hours-of-service logging functionality, commercial navigation, vehicle inspection reporting, IFTA state miles reporting, route compliance and driver behavior.
The trucks will be ready for order starting Sept. 1, 2014.
Cummins introduced a new medium-duty engine and powertrain that it says reduces carbon dioxide emissions by as much as 80 percent, compared to baseline gasoline-powered medium-duty trucks.
Cummins says it has accumuulated more than 1,000 miles and 1,500 hours on its new 2.8-liter ETHOS engine in the past two and a half years. It had aimed to meet a 50 percent CO2 emissions reduction, which it says it surpassed. A final on-road test is underway in the Sacramento area this month.
Navistar began shipping SCR-equipped International DuraStar and WorkStar trucks this week. The trucks are equipped with Navistar's proprietary 9- and 10-liter engines that employ selective catalytic reduction emissions tech.
The engines are built on Navistar's I-6 platform for its medium-duty line.