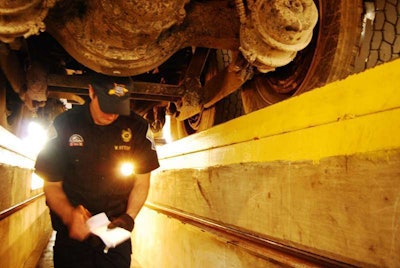 Six drivers have filed a class-action lawsuit against the Federal Motor Carrier Safety Administration claiming the agency "disparaged" their safety records and diminished their value as truck drivers by oversharing information on their Pre-Employment Screening Program reports.
The drivers are seeking statutory damages of $1,000 per alleged violation for themselves and every member of the class, members of which would be determined by the court if the drivers win their suit.
FMCSA says per its policy it does not comment on pending litigation.
The suit — which also names the Department of Transportation and the U.S. federal government as defendants — claims FMCSA "intentionally and willfully" sent reports to potential employers that overstepped the premise of the PSP reports.
According to claims in the court documents, PSP reports are only to contain accident reports and "reports of serious driver-related safety violations."
The reports, which carriers obtain from FMCSA, are related to the agency's Compliance, Safety, Accountability program and draw upon the agency's Motor Carrier Management Information System. They include three years' worth of inspection data and five years' of crashes.
PSP reports for the six drivers filing the suit, along with other potential members of the class, contained "violations of law not determined by the Secretary [of Transportation] to be 'serious driver related violations' under circumstances where motor carriers are entitled only to receive 'serious driver-related safety violation inspection reports,'" according to the lawsuit.
The inclusion of such information also violates the 1974 Privacy Act, the suit alleges, in addition to damaging drivers' reputation, hurting their earning potential and their employment prospects.
The six driver plaintiffs are Thomas Flock of Nebo, Ill.; Dennis Thompson of Mauk, Ga.; Thomas Gooden of Hudson, Fla.; Douglas Heisler of Peach Bottom, Pa.; Walter Johnson of Lawrence, Mass.; and Gayla Kyle of Ogden, Kan.
Their PSP reports included violations like excessive weight, speeding in the 6-10 mph range, failure to use a seatbelt, use of a radar detector, violations of hours rules, incorrect logs, failure to use hazard warning flashers and unlawful parking.
The drivers claim in their suit these are not "serious driver-related violations," according to the DOT's determination.
'[FMCSA's] conduct is in flagrant disregard of the statutory rights of the plaintiff drivers and other similarly situated," the suit reads. "The intentional and willful disparagement of driver qualifications violates the rights of commercial motor vehicle drivers under the Privacy Act. Such disparagement has a negative economic or pecuniary impact on" the drivers.
The class members would include, according to the suit, anyone who FMCSA has "collected, maintained and transmitted for dissemination" under the PSP inspection reports that have violations listed that are not deemed "serious driver-related safety violations."
In addition to the damages of $1,000 per violation, the plaintiffs also are seeking cost of litigation and attorney's fees and to establish a fund to pay damages to the class.