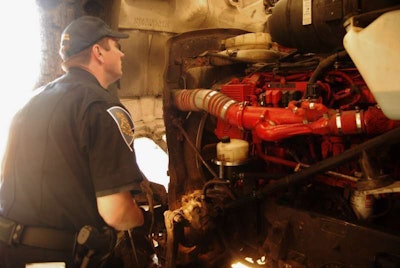 The Owner-Operator Independent Drivers Association this week expressed its support for the six truck drivers who filed a class-action lawsuit against trucking regulators, claiming they divulged to potential employers too much information about their prior violations.
The drivers, all of whom OOIDA says are members, filed the suit last week against the Federal Motor Carrier Safety Administration, the Department of Transportation and the U.S. government, accusing FMCSA of violating the 1974 Privacy Act and its own protocol by including certain violation history in the drivers' Pre-Employment Screening reports.
PSP reports are only supposed to include "serious driver-related violations," per FMCSA rules, and those violations are to be determined by the DOT. However, violations listed in the drivers' reports were never deemed such, the suit says.
"FMCSA's actions in implementing the PSP program demonstrate their deliberate ineptness and disregard for clear statutory limitations," says OOIDA President Jim Johnston.
OOIDA is not a plaintiff in the case, says association spokesperson Norita Taylor. Four of the drivers are owner-operators, one is an independent and the other is a company driver, she said.
They claim their earning potential and their ability to be hired were negatively impacted by the reports, and they are seeking $1,000 for each time the agency sent out a report containing the alleged non-serious violations.
OOIDA is also seeking input from other drivers whose PSP reports may have included violations that allegedly should have been left off. Drivers can contact the association about the matter at: psp@ooida.com
Click here to see Overdrive's original coverage of the suits for more details.