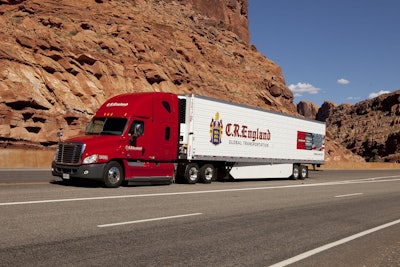 A federal court has approved a $3 million class action settlement over truth-in-leasing regulations in favor of the Owner-Operator Independent Drivers Association against C.R. England Inc.
The U.S. 10th Circuit Court of Appeals' June 19 final order ended a dozen years of litigation on behalf of owner-operators who leased equipment and provided service to England 1998-2006. The Salt Lake based company had no immediate comment on the settlement.
The settlement covers approximately 7,000 drivers who signed a lease agreement with the carrier between 1998-2006. Class members who signed the version in effect until 2002, which was determined to be out of compliance, will receive more compensation than members who signed the revised lease implemented by C.R. England in 2002 — and currently in effect — because the court determined that the revised lease complied with the regulations.
In June 2002, two owner-operators and OOIDA filed suit against England. That summer, the company implemented a revised independent contractor operating agreement.
In 2007, the court ruled the original agreement violated leasing regulations, but damages had not been proven on charge-back and forced purchase claims. However, the amended agreement was compliant with law, it stated.
Still, the court agreed England had violated the escrow provisions of leasing regulations and ordered an accounting audit. When that was concluded, it awarded judgment for the plaintiffs, but both sides appealed.
Last month's final order pays $1 million in class counsel attorney fees and reimburses an additional $190,164 in attorney expenses. The two owner-operators named in the suit will receive $15,000 each.
The remaining class action members will receive awards based on which of three categories they fall under. The first is the 781 members who entered the original agreement and were awarded monies pursuant to the judgment entered by the court. The second are those who had that agreement but were not awarded under that judgment. The third is class members who entered only into the revised agreement with England during this time.