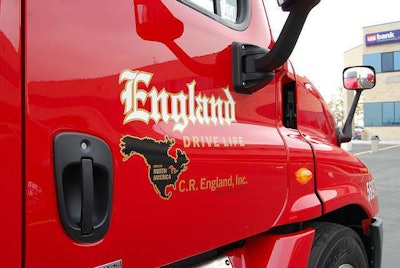 C.R. England plans to appeal a federal judge's class certification of a case alleging fraud, a ruling that could result in thousands of owner-operators joining the two independent contractors in the 2012 lawsuit.
Judge Robert J. Shelby for the District of Utah gave permission Tuesday to allow the suit against the truckload carrier to proceed as a class action lawsuit. It gives plaintiffs 30 days to prepare a final plan for notice to class members.
T.J. England, the corporation's chief legal officer, said he was "deeply disappointed" by the ruling. "We vigorously dispute the allegations made in this case and disagree with the court's decision to certify a class," the attorney said. "We intend to immediately appeal the decision and to continue to fight these unfounded claims as long as is necessary."
Plaintiffs allege fraud and other statutory claims against the truckload carrier and its related company, Horizon Truck Sales and Leasing. The England family runs the company as well as Opportunity Leasing, Inc. which operates under the name Horizon Truck Sales and Leasing. Horizon's primarily purpose is to lease trucks to drivers who work as independent contractors affiliated with England.
Plaintiffs Charles Roberts and Kenneth McKay say the companies recruit students to CRE's driver training schools with promises that they can become a company driver or enjoy strong earnings as a independent contractor.
But truckers say company driver positions were largely unavailable. Further, they allege driving schools students were subject to a misinformation campaign to entice them to lease trucks from England and become independent contractor drivers affiliated with the company.
Earlier in the case, plaintiff attorneys indicated the furthest the plaintiffs' claims will be able to go back is six years prior to the filing of the complaint.
Shelby's ruling certificates CRE owner-operators as a class if they:
•Signed the vehicle leasing agreement with Horizon;
•Signed the independent contractor operating agreement with C.R. England;
•Did the above during the applicable statute of limitations period; and
•Drove at least one day as an independent contractor lease operator for C.R. England.