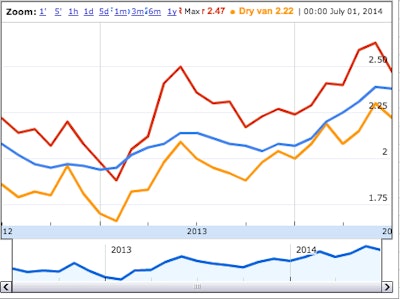 Per-mile rates on the spot market in July fell from the month prior in all three segments (reefer, flatbed and dry van) for the first time since January, according to Internet Truckstop's monthly rate data, but rates in all segments remain near all-time high territory.
All three segments in June saw their strongest rates since Internet Truckstop began keeping records in 2005. And July, though down from the prior month, rode June's rates and the prior six months' of gains to its own high marks.
Reefer rates led the month-to-month drops with a 16-cent drop, landing at $2.47. That's 11 cents higher than July 2013.
Van rates fell 8 cents in July to $2.22 — 22 cents higher than the same month last year.
Flatbed rates, which shot up in recent months, fell just a penny to $2.38. Rates in the segment are 24 cents higher than July 2013.