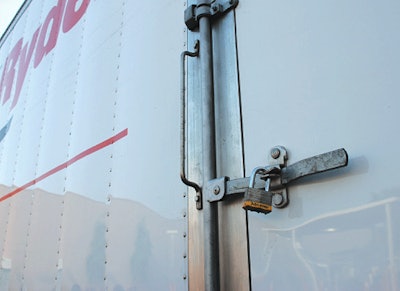 Cargo thieves seem to have a new tool at their disposal, according to FreightWatch International, who says two recent incidents "may indicate the beginning of a trend" for those looking to steal trailers or their contents.
A tractor and trailer stolen July 22 from a truck stop in Georgia was equipped with a tracking device concealed in the cargo, FreightWatch says. Evidence in the case points to the hijackers using two jamming devices to try to interrupt the communication from the tracking devices.
This specific attempt didn't work, FreightWatch says, and the shipment was tracked. No arrests were made, however.
This heist came on the heels of another in June in which suspects were apprehended and were in possession of jamming equipment in Brevard County, Fla.
The jammers are an attempt by thieves to scramble signals of secretly GPS-tracked devices.
"The use of jamming technology presents a potential challenge to the theft recover process and should be taken seriously," FreightWatch says. Similar technology has been used for a while in other parts of the world in cargo heists, FW notes, and "there are effective risk mitigation techniques" available.
If the jamming device trend does seem to stick, security devices will need to evolve to counter them, FreightWatch says.