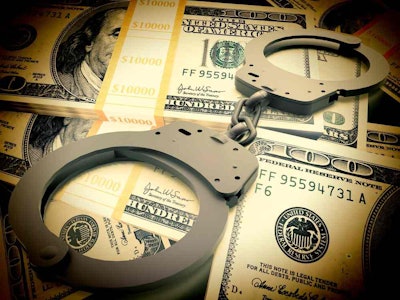 A Florida woman has been indicted in a scheme in which the Justice Department says she cheated truck owners out of just shy of a quarter-million dollars, according to an announcement from the DOJ last week.
Elisa Christina Avila Jackson of Tallahassee, Fla., was arraigned Sept. 2 by a federal grand jury with five counts of wire fraud and one count of possession of counterfeit Internal Revenue Service stamps.
The Justice Department alleges that Jackson set up a fake permitting and licensing company, dubbed Bee's Carrier Permitting and Licensing, in which she would purportedly offer assistance to truck owners in filing their annual registration application in Florida.
Per state law, truck owners must have proof that they've paid the Heavy HIghway Vehicle Use Tax before obtaining the permit.
Jackson would collect the amount due for the tax and promised her customers she'd pay it for them, the DOJ says. She then would create fraudulent IRS forms and IRS numbered remittance stamps, investigators say, which falsely showed the taxes had been paid.
Jackson defrauded truck owners out of $248,000 in the scheme, investigators allege.
Her trial is set for Nov. 3. She could face years in prison and hundreds of thousands of dollars in fines.