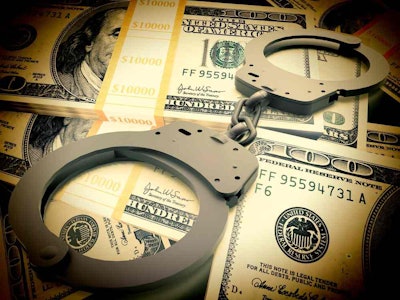 Success Leasing ex-employee sentenced for fraud
A former salesman for Prime Incorporated's leasing company has been sentenced to $945,000 in restitution and more than three years in prison for embezzlement.
On Sept. 16, the U.S. District Court for the Western District of Missouri ordered the restitution and incarceration without parole for Travis E. Honaker, 36, of Battlefield. He had sold used trucks and equipment, including auxiliary power units, that had previously been leased to others by Prime affiliate Success Leasing Inc..
In December 2011, Prime became aware Honaker was not reporting payments for APUs that he sold for Prime. A further audit revealed he also was receiving payments for unauthorized "finder's fees," "inspection fees," or "deposits" on trucks owned by Prime that he sold.
Honaker had charged several of Prime's largest clients fees for finding, inspecting or holding trucks for them. Depending on the truck's age and condition, Honaker received $500 or $1,000 per truck, which he never reported to his employer.
In 2011, he set up a shell company, T&H Consulting, LLC, to receive these fees and deposits. Buyers wired funds to this account, which Honaker transferred to his personal bank accounts. He used the stolen money for living expenses, expensive vehicles, his wife's extensive gambling expenses and toward paying for his home.
Honaker pleaded guilty to wire fraud and money laundering in March.
–Jill Dunn
Missouri man sentenced to nearly 6 years for embezzling $4.9M from carrier
A Missouri man has been sentenced Sept. 19 to five years and 10 months in prison for embezzling $4.9 million his trucking company employer over a five year period.
David VanWinkle, of Neosho, Mo., pleaded guilty in February to wire fraud, money laundering and failure to pay taxes. He said he stole $4.911 million from FLI between June 2008 and December 2013, according to the Justice Department, which he spent on personal expenses and gambling.
VanWinkle was ordered to forfeit to the government the $4.9 million, along with a 2013 Holland tractor, a 2007 Hummer H3, a 2012 John Deere drill and $28,000 from his bank accounts.
VanWinkle was the comptroller for the Joplin, Mo.-based FLI, where he worked for 22 years.
His embezzlement caused the company "severe financial distress," according to court documents. While he was embezzling the money, FLI's other 100 employees were taking pay cuts to ensure the company would not close, according to the Justice Department.
His fraud was detected after FLI was contacted over its failure to pay employee taxes, as VanWinkle had stolen the money designated to pay them.
Investigators began looking into unusual deposits in his accounts for two of his businesses, VanWinkle Accounting and VanWinkle Farms. Agents discovered that he collected paychecks from the carrier's customers, but would only deposit some of them into FLI's legitimate account.
He would deposit the rest into other secret checking accounts under an FLI name, which were open at another bank. He would then withdraw money from those accounts and deposit them into his other business accounts.
He did not report the money to the IRS in 2008, 2009 or 2010, and in 2011 and 2012, he did not file income tax returns.
–Overdrive Staff