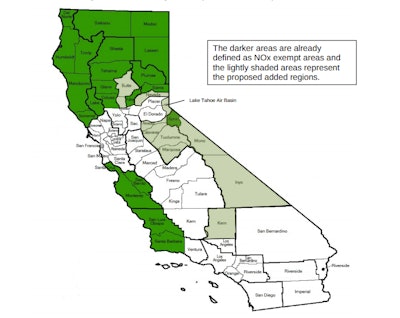 California's stringent emissions regulations have been quite a boon for diesel particulate filter sales in the state, according to data published this week, especially in the 12-month period of June 2013-June 2014, presumably as truck owners in the state began retrofitting their rigs to come into emissions compliance.
Figures from the Manufacturers of Emission Controls Association show that DPF sales jumped 65 percent year over year in the state in the six-month period between Jan. 1 and June 30 of this year, with 5,780 filters reported being sold by MECA members. In the same time period in 2013, 3,508 filters were sold by MECA members, the group says.
The last six months of 2013, however, were on par with the first six months of 2014, as MECA members sold 5,457 DPF units, MECA says.
In all of 2012, MECA members sold 6,261 filters for trucks and buses.
The increased activity of late is in response to the California Air Resources Board's requirement that virtually all trucks in the state with 1996-2006 model year engines be retrofitted with a DPF or upgraded to 2007 and later emissions technologies. The deadline for installation was Jan. 1, 2014, but the state had some alternative compliance options and dates in place for some truck owners, which could have delayed compliance to June 30.
CARB expects another 36,000 trucks still need to take action to become compliant with its emissions restrictions, MECA says, though the group did not say how many trucks it or CARB expect to take steps to come into compliance.