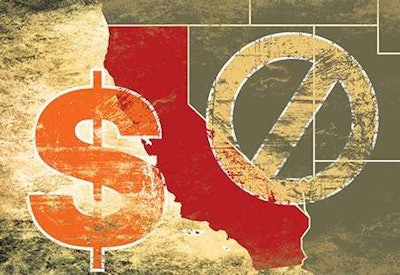 After the public meetings earlier this year that resulted in some narrow options for delaying compliance with the California Air Resources Board's Truck & Bus Rule, some owner-operators were hopeful to take advantage of a provision that would have allowed compliance extensions for those who could prove they were denied financing to upgrade and/or retrofit their truck or trucks to comply. As it stands now, aside from some extensions already in place, click here for what the regs are requiring by model year of the truck's engine.
The board, however, recently released draft language of changes to the proposed amendments. The one referred to above — dubbed now the "Economic hardship extension" — you'll find on p. 45 of this linked document showing changes. Among the stipulations now included, any owner-operator or fleet owner looking to take advantage of it must demonstration that…
The fleet owner has made every attempt to bring as many other vehicles into compliance as possible, and has documentation of all of the following for the vehicle that cannot be brought into compliance:
1. Written price quotes from an authorized [PM filter retrofit] installer for the purchase and installation of a PM filter retrofit; and
2. Written price quote from a vehicle dealer for a suitable replacement vehicle that has a 1996 or newer engines that meets PM BACT and has the same configuration and body type as the existing truck; and
3. A written estimate from a leasing entity for a 1 to 3 year vehicle lease for a replacement vehicle with the same configuration and body type as the existing vehicle. In the case of specialized vehicles that are not available for lease, the owner must provide an explanation of why leased vehicles are not available.
And if that wasn't tough enough, as Joe Rajkovacz points out over on the website of the California Construction Trucking Association, "CARB reserves the right to deny you access to this extension if – in their opinion — you can afford the lease arrangement."
And it only gets more difficult from there. Read his account of all the ins and outs via this link.
You have through Thursday this week, July 17, 5 p.m. Pacific, to comment on any of the proposed revisions to the amendments' language. To submit comments via the web, use the page at this link.