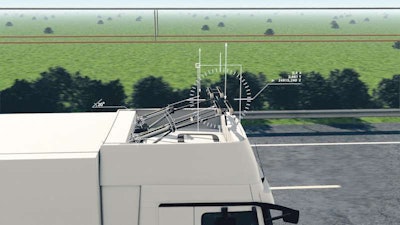 A two-mile demonstration project using overhead cables to power electric trucks is slated to begin in California in July 2015.
The South Coast Air Quality Management District has selected Siemens to install its eHighway system in Carson for the year-long project. The company is developing a demonstration vehicle with Volvo Group and Mack, as well as California truck integrators, whose vehicles will be included in the demonstration.
The system will electrify selected traffic lanes in two directions through an overhead cable system, similar to how modern streetcars are powered on city streets.
During the demonstration phase, up to four eHighway trucks will travel the route daily, equipped with a hybrid drive system and intelligent current collectors. On roads without overhead cables, the vehicles use a hybrid drive system which can be powered by diesel, compressed natural gas, an on-board battery or with other energy sources.
The current collector enables the vehicles to overtake and automatically connect and disconnect at speeds of more than 55 mph. The catenary infrastructure will be installed on the North and South-bound sections of Alameda Street where it intersects with Sepulveda Boulevard. Up to four trucks will run in the demonstration, making multiple drives per day.