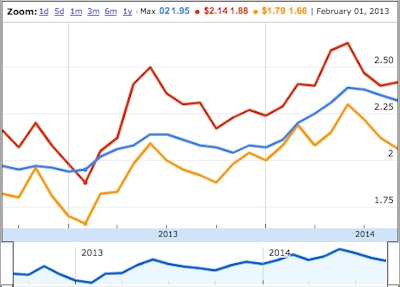 Per-mile rates on the spot market fell in September in both dry van and flatbed segments, but reefer saw a small uptick, according to data released Oct. 1 by Internet Truckstop.
September's van and flatbed drops come after all three segments saw rates decline in August and July. However, all three segments are still riding the rate boom seen February-June.
June's rates set records in all three segments before the the small drops in July, August and September. The late summer, early-fall decline was in line with seasonal trends.
Rates in all three segments, however, remain well above the same month last year.
Flatbed rates in September fell 3 cents from August, putting the segment at $2.32 a mile — 24 cents higher than September 2013.
Reefer rates rose 2 cents in the month to $2.42, 11 cents higher than September of last year.
Dry van rates saw the biggest drop — 6 cents, down to $2.06 a mile — but the segment's rates remained 14 cents higher than the same month last year.
Overdrive Senior Editor Todd Dills published Oct. 1 an examination of how owner-operators can take advantage of the soaring rates on the spot market. Click here to read it.