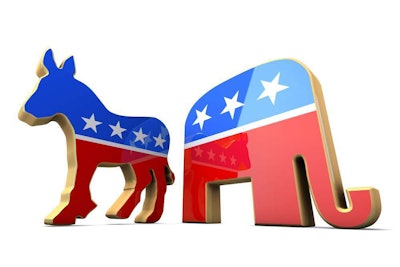 Will a Republican-controlled Congress affect the trucking industry? More specifically, will a Republican takeover of the Senate benefit the trucking industry?
It could, says American Trucking Associations' Dave Osiecki, but it may not. Osiecki says the likely direction of a Republican Congress a "mixed bag" for trucking industry concerns. Osiecki spoke Friday on a conference call hosted by Stifel Capital Markets.
Polls show the Republicans have a strong chance to win enough seats in Tuesday's (Nov. 4) election to hold a majority in the Senate, along with retaining their majority in the House.
If that is the case, the implementation of new trucking regulations could slow, Osiecki says, but highway funding — already a major industry concern — could suffer.
A Republican-led Senate could implement more oversight hearings for trucking regulations and ask regulators like the Federal Motor Carrier Safety Administration "tougher questions."
However, Republicans are hesitant to raise taxes. ATA supports raising fuel taxes as a means to pay for improving the country's highway system and transportation infrastructure.
Overdrive sister site CCJ has a full story on Osiecki's comments. Click here to read it.