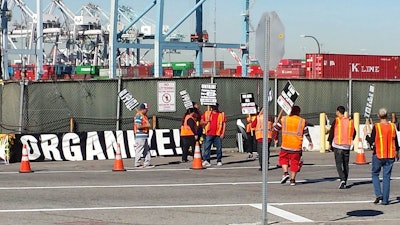 Southern California port truckers now are picketing two intermodal rail carriers as the strike against area port drayage companies expands.
Drivers began following Pacer Cartage and Harbor Rail Transport trucks to rail yards and other customer locations Nov. 18. The day before, some truckers for QTS Inc., LACA Express and WinWin Logistics went on strike against what they describe is misclassification as independent contractors.
On Nov. 13, some Green Fleet Systems, Total Transportation Services Inc. and Pacific 9 Transportation truckers resumed their fourth strike this year. That evening, GF drivers agreed to extend the cooling off period negotiated by Los Angeles Mayor Eric Garcetti last July.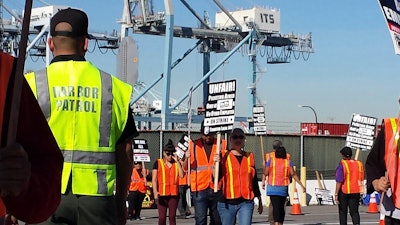 The next day, Teamsters union, Pac9 and TTSI announced the drivers had agreed to continue talks with the two companies.
It was announced Nov. 19 that Pac 9 drivers had agreed to end their strike and resume work.
The Pacific Maritime Association said West Coast port congestion had been compounded by what it says are union slowdowns and work actions. The organization of terminal operators and shipping companies has been negotiating a new contract with International Longshore and Warehouse Union since May. The union's contract expired July 1 and affects 13,000 dock, clerical and foreman workers at 29 Pacific Coast ports.
The association says ILWU workers slowed pace this month at Tacoma and Seattle ports while withholding qualified yard crane operators at LA and LB ports.
Several steamship lines imposed significant port congestion surcharges Nov. 17, citing labor problems and a major upswing in port congestion.
The same day, PierPass Inc. concluded meetings with the Federal Maritime Commission and staff on marine terminal operator efforts to mitigate congestion at the twin ports. The not-for-profit company was created by MTO at the two ports in 2005 to address issues such as congestion. Since Sept. 1, these MTOs have spent $3 million per week on additional and unbudgeted costs to manage congestion.
The National Retail Federation, the National Association of Manufacturers and the U.S. Chamber of Commerce warn a West Coast port shutdown would be "catastrophic" for the U.S. economy. This week, they repeated their request for President Obama to appoint a federal mediator to help the association and union reach a new contract.
The two ports have been working to decrease traffic problems.
Recent efforts include Los Angeles' plan to implement a new chassis distribution Feb. 1. Long Beach will operate its own chassis fleet during peak demand periods and last week, gave the green light to store empty containers on a temporary site.