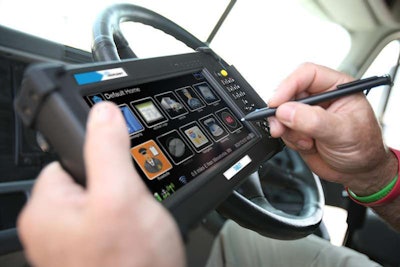 Upon the Federal Motor Carrier Safety Administration's recent conclusion that use of electronic logging devices contributes little to harassment of drivers by carriers, at least one industry group has called the agency's methodology suspect, while others say — FMCSA's study aside — ELDs can actually help drivers battle harassment issues.
The Owner-Operator Independent Drivers Association said in a statement about the agency's report that it disagrees with FMCSA's conclusion that harassment via ELDs is "a negligible consequence."
"We have some serious concerns about the limitations of the study. The FMCSA failed to address the safety impacts of harassment or provide evidence of any safety benefits of ELDs. According to the data in this study, mandated ELDs could mean nearly 300,000 truck drivers would experience harassment issues on a regular basis," OOIDA said in its statement.
Two trade groups representing fleets, however, have said ELDs can actually empower drivers to fend off pressure by their carriers to operate when tired or operate beyond hours-of-service limits.
The American Trucking Associations' VP of Safety Policy Rob Abbott says his group hasn't thoroughly reviewed FMCSA's findings, but he says the agency's report is a tool FMCSA can use to protect its rule from court scrutiny — which is what derailed the agency's previous attempts at mandating electronic logging devices.
Logging devices could be used to protect drivers from harassment, he says.
"There's a lot of data to suggest ELDs might be helpful in that regard," he says. "They keep track of hours that drivers work and drive, and fleet management systems keep records of messages between drivers and dispatch. [ELDs] arguably are tools or drivers to further empower themselves to show that their carrier encouraged them to drive when tired or to break rules."
The Trucking Alliance, another group that represents carrier interests, says there's little evidence that shows ELDs are used to force drivers to operate when tired or when they don't want to drive.
"Mandatory ELDs will help make truck drivers' jobs easier," the Alliance said in a statement. "No longer will they fill out paper logs, a practice that is prone to mistakes and even worse, easily falsified…ELDS will discourage drivers from exceeding their legal hours behind the wheel and fewer fatigued truck drivers will mean fewer accidents on our nation's highways."