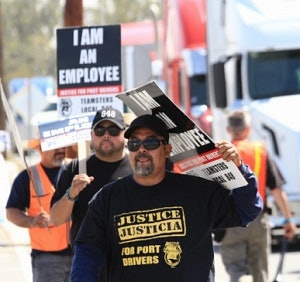 A California court has ordered San Diego-based carrier Pacer Cartage to pay seven of its drivers more than $2 million in back pay for what it deemed to be wage theft by the carrier's classification of the truckers as independent contractors.
The court upheld a state labor commission determination that the carrier had wrongly classified the truckers as independent contractors instead of employees, thereby skirting certain labor law requirements and wrongly withholding certain deductions from the drivers' paychecks.
The drivers were awarded $2.026 million for what the court deemed unlawful payroll deductions. Individual awards ranged from $387,936 to $85,633, with each driver receiving $9,000 in wait time pay, too.
Judge Jay M. Bloom issued the ruling Jan. 28, and both sides in the case have until Feb. 17 to submit comments or objections.
Pacer says it will appeal the judgement. "We believe the drivers in question are properly classified as contractors, and that this case is without merit," said Troy Cooper, chief operating officer for XPO Logistics, which owns Pacer Cartage.
Bloom determined, like in other recent classification cases, the employee-employer relationship failed the control test: The drivers did did not have the right to control the manner and means of accomplishing their jobs, as independent contractors would.
The drivers in the case did own their own trucks until 2009. But when stricter emissions standards were implemented, Pacer began leasing compliant trucks to carriers — the cost for which was deducted from the drivers' paychecks.
The drivers were required to get insurance through Pacer and remain on call for loads. The trucks were not registered to the drivers and they were restricted from using them for non-company business.
The truckers filed a complaint with the California Labor Commissioner in 2012, arguing they should have been classified as employees. The commissioner agreed, making a ruling in spring 2014 to award the drivers the $2 million settlement.
Pacer appealed, and the case moved to the San Diego superior court.
The settlement check deductions and out-of-pocket expenses for the drivers were unreasonable, Bloom concluded.