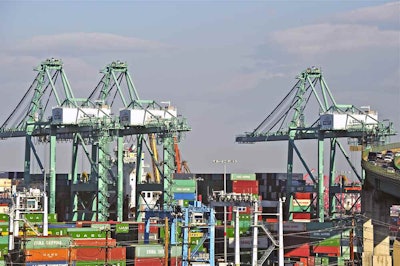 The maps above, snapshots of the last three years' worth of January load-to-truck ratios in the spot market as analyzed by DAT, show just how exceptional, big picture, January last year was. What followed, of course, was positive for rates and freight, largely, for independents, as we've reported before.
This year — again, big picture — looks a lot more typical seasonally all around the country, if a little stronger than 2013, says DAT's Ken Harper. At this point in the year, he notes, typically "you're either plateauing or, if it's a particularly good year, you're just beginning to see a glimmer of the spring freight season to come."
This time around, "we're seeing seasonal trends," he adds, with a caveat — exacerbated slow-downs on the West Coast.
What's happening out West primarily stems from freight-flow disruptions with union/management contract deadlock long ongoing, cargo ship traffic seeing particularly marked disruptions these last couple of weeks, as we've reported on as recently as today, as Obama's Labor Secretary entered negotiations to help mediate between the sides. "This port disruption is throwing another complication on top" of typical seasonal shifts, says DAT's Mark Montague. "All throughout the Western regions things are slower."
With backups in most major ports, "cargo's not getting offloaded," Montague says, "not getting warehoused, not becoming available in the supply chain" to move. "In December, the spot market was fine – but in January and February so far, we've seen especially lower [load-to-truck] numbers around the country but particularly on the West Coast. With a load to truck ratio of 2.5, we view things as basically normal and balanced," given brokers have a tendency to post loads multiple times, and truckers don't always post their trucks.
In major port city markets, though, ratios are falling well below that. "We're seeing anemic load-to-truck ratios," Montague says. Los Angeles shows about "25 percent of the posting activity seen a year ago." Oakland: 30 to 40 percent. Seattle: 25 percent.
Load-to-truck ratios in all three port regions the last several days have been on par with Miami, Fla., well-known as a less-desirable (to say the least) destination if you want to get a good rate back out this time of year, he adds.
Widespread extreme winter weather last year, furthermore, primarily affected the spot market in areas east of the Rockies to the positive for truckers, making the current demand declines in the West all the more impressive, statistically.
What are you seeing in freight markets out west?