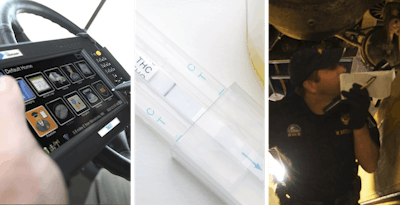 The Alliance for Driver Safety & Security, colloquially known as the Trucking Alliance, laid out this week its 2015 priorities for regulators and lawmakers, saying it plans to push for quicker implementation of an electronic logging device mandate, an increase to the minimum amount of liability insurance that trucking companies must hold and a speed limiter mandate, among other items.
The Alliance's Chairman, Steve Williams, met with FMCSA Acting Administrator Scott Darling, senior members of the House's Transportation Committee and Senator John Boozman to update them on his group's 2015 objectives, the Alliance announced this week.
Williams is the chairman and CEO of the Little Rock, Ark.-based Maverick USA.
The 2011-founded group also includes major carriers like Knight Transportation, J.B. Hunt, Dupre Logistics, Fikes Truck Line and others, along with trucking technology players like Rand McNally, DriveWyze, Psychemedics, Omnitracs and PeopleNet.
The group announced it also plans to push for retaining the public view of scores in the Compliance, Safety, Accountability program, recognizing drug tests done via hair testing and passage of a long-term highway funding bill that allocates more money to enforcement of trucking regulations.
The Alliance bills itself as a group of "progressive, like-minded" trucking companies, and some of its 2015 priorities stand counter to other prominent trucking groups like ATA and OOIDA.
While ATA also is pushing for a long-term highway funding bill and for a speed limiter mandate, it and OOIDA are against an increase in the minimum amount of liability insurance required of carriers. ATA And OOIDA also both have called for the removal of CSA scores from public view.
The Alliance, however, says Congress and the White house "can do more to help the nation's trucking industry serve the U.S. economy safety and efficiently," according to its announcement.
"The Alliance is committed to safety objectives that make sense for our country first, the trucking industry second and our companies third," said Williams. "For example, we shouldn't tolerate 300,000 trucking accidents that kill upwards of 4,000 people each year, and 600 of those fatalities are truck drivers. We can do more to lower risk for all motorists and help our truck drivers do their jobs and arrive home safely."