The average value lost per cargo theft incident rose 36 percent in 2014 compared to 2013, and the cargo theft threat level for 2015 remains high, according to cargo theft prevention firm FreightWatch Internatinoal, who issued its 2014 cargo theft report this week.
The average value lost per load in 2014 was $232,924, according to the report, and the number of reported thefts in the year totaled 794, a 12 percent drop from 2013 and an average of 2.2 per day: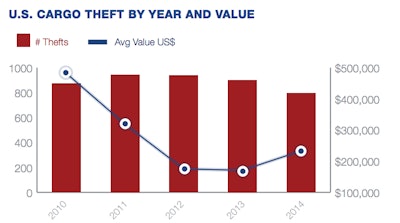 FreightWatch says cargo thieves in the U.S. are becoming more sophisticated, with data "suggesting organized thieves offset the lack of access to a high quantity of shipments by targeting higher value merchandise," the report notes.
Stolen loads of electronics were one of the main drivers of the increase, as electronics thefts valued at more than $1 million tripled in 2014 from 2013, the report says.
Electronics loads accounted for 16 percent of all thefts in 2014, second on the most targeted list. Food and drink loads topped the list at 19 percent, while home/garden loads accounted for 14 percent of 2014's total: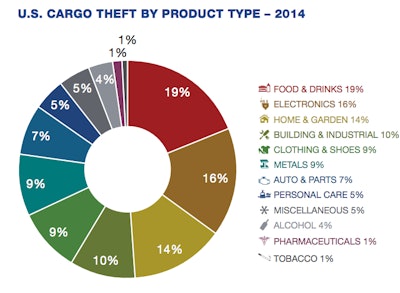 Nearly all of the cargo thefts in 2014 occurred in just five states: Florida, California, Texas, Georgia and New Jersey: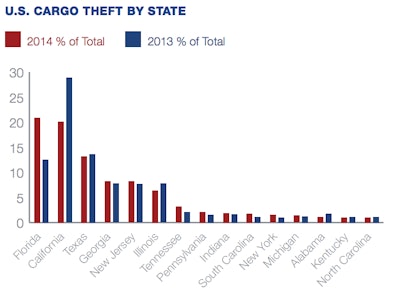 And 90 percent of the year's cargo thefts occurred while the truck was stationary or unattended, FreightWatch says. Related to that figure is the number of thefts occurring at what FreighWatch deems "unsecured parking" areas like truck stops. Lack of secured parking accounted for 87 percent of thefts, according to the report.
Concerning trends for 2015 include growing use of technology like jammers and more sophisticated tactics of surveying and targeting high value loads, FreightWatch says.
"The trend of increased targeting signals the necessity for industry leaders to improve security posture while simultaneously preparing for an escalated threat," the report says.