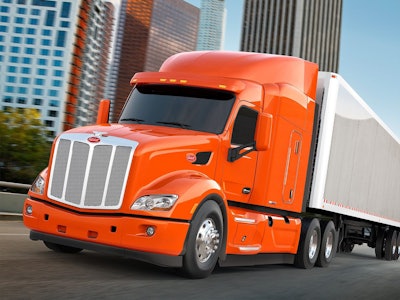 Peterbilt Motors introduced enhancements to its Model 579 EPIQ that it says can improve fuel efficiency up to 14 percent. The company also announced new models or expanded versions of existing models, including improvements in its natural gas-powered offerings.
The 579 EPIQ's fuel gains come from aerodynamics, drivetrain, tire pressure monitoring and automatically generated driver performance tips, said Chief Engineer Scott Newhouse during the during the Mid-America Trucking Show. He detailed some key elements:
A roof fairing bridge that reduces the gap between truck and trailer;
Enhanced chassis fairings that minimize the opening in front of the tandem axle;
Rubber wheel closeouts on the front axle;
A bumper dam that reduces aerodynamic lift and drag; and
A bumper-to-hood seal that redirects air around the truck.
"The Model 579 is the most aerodynamic truck in Peterbilt's 75-year history and when configured with the EPIQ package, it takes fuel economy to even greater levels," said Darrin Siver, Peterbilt General Manager.
Peterbilt introduced a new 58-inch sleeper for its Model 579 in low- and mid-roof configurations, which it says is ideal for weight conscious short- and regional-haul operations.
The new sleeper, which goes into production during the fourth quarter, reduces weight by up to 100 pounds (versus the 80-inch sleeper) while including all of the amenities found on Peterbilt's larger sleepers.
The new sleeper includes a full-length door to help facilitate loading personal gear and belongings. Full-length, integrated extenders to minimize trailer gap and improve aerodynamic efficiency. Other features include a television mount, refrigerator and microwave shelf.
Peterbilt launched a new set-forward front axle configuration for its flagship vocational Model 567 that is ideal for mixer and other weight-conscious applications.
Like the set-back axle version, the Model 567 SFFA is available in both 115- and 121-inch BBC lengths. The 115-inch BBC has a bumper to front axle distance of 29 inches and the 121-inch BBC has a bumper to front axle distance of 31 inches.
Peterbilt introduced two new medium-duty vehicles powered by compressed natural gas: the Model 337 and the Model 348. Both vehicles are now in production and can be configured as trucks or tractors. They are optimized for configuration with 110-inch BBCs.
Newhouse said the optimized spec, including steering geometry that provides up to a 50 degree turning angle, provides improved maneuverability in congested operations.
Both the Models 348 and 337 are powered by the Cummins Westport ISL-G with 320 horsepower and 1,000 lb.-ft. of torque.
Peterbilt introduced its Models 579 and 567 in liquified natural gas configurations, available as daycabs. Production is scheduled for June. Both trucks are powered by the Cummins-Westport ISX12 G with up to 400 horsepower and 1,450 lb.-ft. of torque.
"Peterbilt is the industry's natural gas leader with the largest market share, most experience and broadest, most versatile product lineup," said Robert Woodall, assistant general manager of sales and marketing.