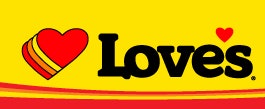 Love's Travel Stops announced it now offers a tire inflation system at some of its locations.
The new system is designed to inflate tires automatically while drivers fuel. The Love's TirePass is now available at 75 Love's Travel Stop locations across the country.
A trained technician hooks up truck and/or trailer tires to the automatic inflators stationed around the vehicle in the designated TirePass fueling lane. While the driver fuels his truck, tread depth and pressure are measured and recorded. Tires are inflated to the desired pressure if necessary. The use of Flow-Through valve caps maximizes drivers' experience.
All drivers receive immediate reports showing the status of their tires.
TirePass will be available at all Love's locations with truck tire care centers by August.