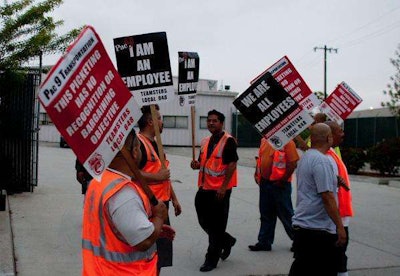 Port truck drivers at Pac 9 begin strike against #wagetheft & misclassification https://t.co/79msw3Pp8N #1u #Teamsters pic.twitter.com/yQTdy7zWh2

— Teamsters (@Teamsters) July 21, 2015
Truckers at California's Pacific 9 have begun what the Teamsters have described as an "indefinite strike," aiming to be classified as employees instead of independent contractors.
They began picketing at 6 a.m. July 21 at company headquarters in Carson. In recent years, the union began demanding that independent contractors at Pac 9 and a handful of other Southern California drayage companies be reclassified as employees. The drivers filed wage and hour claims with the California Department of Labor Standards Enforcement and began suing for wage theft and misclassification.
The Orange County Register reported July 22 that Pac 9 truckers have wage theft claims against the company totaling more than $6 million. California's labor commission will begin hearing arguments July 27 after a state appeals court overturned a temporary stay on these claims.
In other port news, the Federal Maritime Commission is requiring additional documentation on an agreement between ocean carriers and West Coast terminal operators following complaints by trucking companies about congestion and chassis supply.
The commission announced July 14 that it is asking vessel-operating common carriers in the Pacific Ports Operational Improvements Agreement to provide agreements with West Coast terminal operators. It is assessing the competitive impact of the PPOIA, which was meant to permit discussion and cooperation to alleviate congestion in West Coast ports.
Click to read more on the FMC's involvement on Overdrive sister site CCJ.