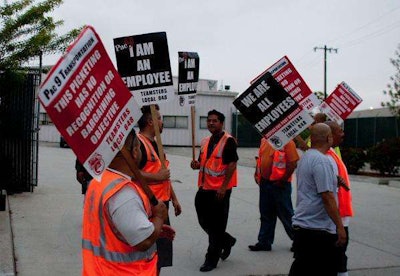 A California judge has upheld the state labor commissioner's decision that a trucker misclassified as an independent contractor is owed back wages and expenses.
A Los Angeles superior court ruled that Laca Express Inc. owes driver Ho Woo Lee $179,390 in back wages and expenses. The court agreed that the opinion of the Division of Labor Standards Enforcement, also called the Labor Commissioner's Office, that the Los Angeles for-hire carrier unlawfully deducted money from his paycheck.
When Lee filed the claim with the commission in 2012, he said Laca Express unlawfully deducted $83,292 from his paycheck. That claim included more than $80,000 in weekly lease and insurance payments deducted for a truck the 40-truck company repossessed after firing him.
Lee contended that the motor carrier had violated California code, which limits when an employer can withhold amounts from an employee's wages. A company can do this when required or empowered to do so by law, or when a deduction is expressly authorized in writing by the employee such as for an insurance premium, or when a deduction for contributions such as to a pension plan contributions is authorized by a collective bargaining agreement
The commissioner had ordered Lee be awarded $161,205.
When Laca appealed that order, the commissioner's represented Lee in court. Judge Ross Klein ruled that Lee was owed $179,390 plus costs and attorney's fees. Laca had unlawfully deducted wages, reimbursable expenses such as fuel and truck repair costs, interest and penalties, the court stated.