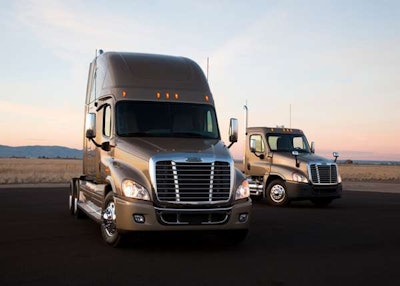 When one trucking industry vendor comes up with a great idea to help drivers and fleets alike, it's a win-win. So when two vendors work together on new trucking innovations, is that a win-win-win? Why not, since everybody's happy?
Let's start our roundup of company team-ups with Navistar, which proudly announced that it will be first-to-market with the Eaton Procision line of dual-clutch transmissions for its International DuraStar medium-duty trucks. Eaton says the new 7-speed transmissions deliver added fuel economy compared to a similarly equipped vehicle with a torque converter automatic transmission.
The Eaton Procision transmission features a dual-clutch design and electronic shifting that uses grade, vehicle weight and throttle input to provide optimal fuel efficiency and smooth, continuous delivery of torque. The dual-clutch technology is designed for more efficient acceleration from a stopped position and to optimize shift points that will get to the highest gear efficiently.
Meanwhile, Detroit Connect announced that it is deepening its telematics strategy by realigning its offerings in collaboration with Zonar Systems Inc. Detroit Connect will transition the branding of its Visibility Fleet Software and On-Board Tablet to Zonar. With this change, Visibility will take on Zonar's Ground Traffic Control fleet tracking application product name, and the Tablet will assume the 2020 tablet branding.
The Detroit Virtual Technician onboard diagnostic system will maintain the same branding and will remain under the Detroit Connect umbrella. Zonar will assume management of all Virtual Technician subscriptions, including the renewal process, on Detroit Connect's behalf later this year.
Finally, SAF-Holland – a global manufacturer of truck and trailer suspensions, fifth wheels, landing gear and coupling products –announced that its manufacturing facility in Holland, Mich., received Paccar's 2014 50PPM Quality Award for meeting the truck maker's quality standards. SAF-Holland supplies fifth wheels, truck suspensions, pintle hooks and tow hooks to Paccar.
"We continually strive and are committed to improving our quality procedures and delivery processes," said John Wieringa, vice president of Quality and Environmental Systems for SAF-Holland. "To have our efforts recognized by a valued customer is a great honor and a testament to the dedication of our staff and an efficient production management system."