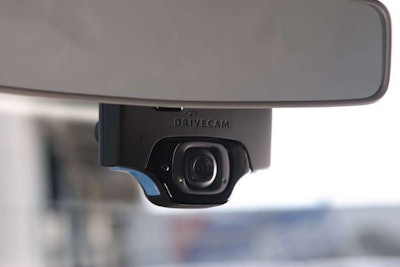 American Central Transport (ACT) announced this week it will raise pay for owner-operators who adopt Lytx Drivecam systems installed in their trucks.
The carrier says it will install the systems at no cost to its owner-operators. The systems records video of events like hard braking, swerving and more — both with a forward camera and driver-facing camera — and sends the recordings back to carriers for monitoring.
ACT began installing the DriveCam video-based event recording systems in February 2015, with the goal to outfit the entire fleet by the end of the year.
To date, about 170 of the 390 trucks in its fleet have the technology, including 40 of its 80 contractors.
Company drivers will automatically see their pay increase starting August 24, bringing their maximum pay rate to $0.52 per mile, based on tenure, plus a fuel bonus.
Owner operators will make $1.05 per loaded mile with a hazmat endorsement. To qualify for the $0.02 per-mile raise, ACT requires contractors to install the systems.
"We told our contractors that we will put the raise in effect as soon as you get DriveCam. That doesn't mean they can say 'no, we don't want one.' We are still going to do it for everyone," says Tom B. Kretsinger, Jr., president of the Liberty, Mo.-based truckload carrier.
Carrier management announced the pay increase at ACT's monthly company barbecue, held on Tuesday, Aug. 11. Immediately following the announcement, Kretsinger says at least six more contractors asked to have the Lytx DriveCam program installed to get the extra $0.02 per mile.
With the majority of drivers in the fleet now using the DriveCam program, Kretsinger says he is encouraged by the amount of positive information drivers are sharing about the technology with their peers.
"The debate that is going on is between them instead of me and them," he says.
In the first half of 2014, ACT had 16 DOT reportable accidents. In the first quarter of 2015 it had 4 accidents, but since mid-February when it started installing DriveCam, zero accidents have occurred "until Monday," he says. "We had a car run into one of our drivers but it was not our fault."
To read more about the announcement from ACT, see the company's most recent blog post at: http://blog.haulact.com/act-pay-increase/
Overdrive started earlier this year a hub for on-highway videos shot with systems like DriveCam and other forward-facing video recorders. Click here to watch the Overdrive's Dashcam Central videos or to upload your own.