This week we're resuming our series that takes a look back at some recent product introductions for specific categories and specs. After all, since most of you are busy enough trying to manage your own business and make as much money as possible, it's likely you occasionally might have missed a few gear rollouts over the past few months. So that's why we're hitting rewind on some new trailers to help you get the most out of your hauls.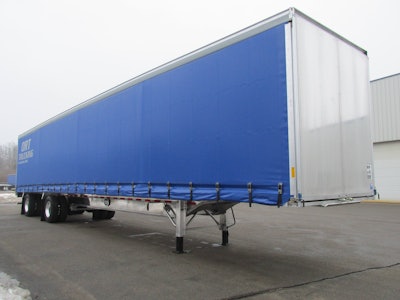 Mac's Lo-Pro Elite Trailer flatbed is engineered for added capacity for general building materials, pipe and palleted general freight loads with capacities of 40,000 pounds in 4 feet, 43,000 pounds in 10 feet, 45,000 pounds in 20 feet, 50,000 pounds in 30 feet and 70,000 pounds in 53 feet. The trailer has an empty weight of 9,840 pounds on a base measuring 53 feet long by 102 inches wide – no pockets, spools or rub band – and is set up for Sliding Systems' aluminum curtainside kit that weighs 2,440 pounds. Available axles include a 122-inch spread tandem, fixed closed tandem, closed tandem slider and front or rear slider to meet a variety of hauling requirements.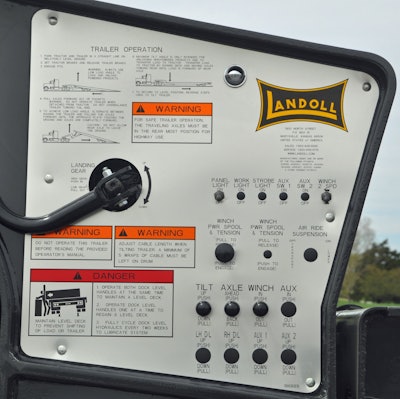 Landoll's Next Generation Trailer line offers an updated hydraulic operating system nicknamed H.O.S.S., as well as the company's High Visibility Lighting package. H.O.S.S. is designed to cut overall operational time in half and allow more loads to take place. Removing the restrictors helps eliminate back pressure, resulting in cooler operational temperatures and a quieter environment, while continuous oil encasement of the valves in the control panel requires less maintenance. Previously, oil circulated through the entire system before returning to the tank, allowing for only a 14 gpm flow; oil now travels only through the closed center inlet and back to the tank, creating a 20 gpm flow. Landoll's 400 "A" Series Traveling Axle trailers will be the first models with the new standard features.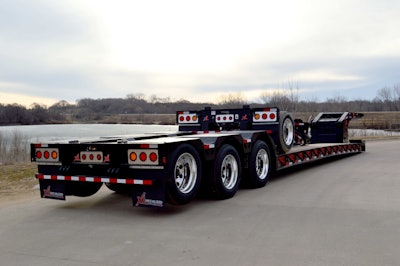 XL Specialized's 60 Hydraulic Detachable Mini-Deck Trailer uses a three-beam design and has a loaded deck height of 12 inches with 4 inches of ground clearance and an empty weight designed to allow scaling to maximum payload. The XL 80 FDE extendable trailer features the company's Extend-A-Trac technology to extend and retract the deck without hooking and unhooking air and electrical lines. The XL 110 Low-Profile HDG for hauling construction equipment features an 18-inch loaded deck height and a 6-inch ground clearance, allowing operators to meet bridge clearance laws without needing a drop-side or beam deck. The XL 140 HDE for diverse loads is a 13-axle trailer rated at 140,000 pounds capacity to handle large machinery or commercial freight.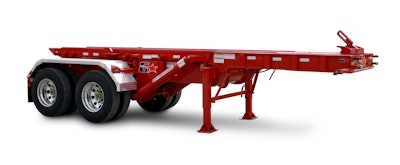 Galbreath's lightweight M6-250 Series Roll-off Trailer is designed to handle roll-offs with heavy loads such as scrap and construction materials. The trailer weighs 15,650 pounds, has a shorter overall length for added maneuverability and has a gross vehicle weight rating of 72,500 pounds. With container size capacity up to 30 feet, the trailer is available in outside rail, extendable tail, inside/outside rail and deadlift configurations. It features two telescoping lift cylinders designed for added stability when lifting heavy loads, and its lower trailer height helps accommodate taller containers.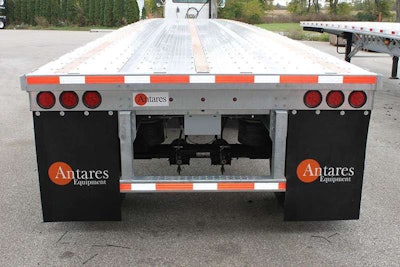 Antares Equipment's latest 48-foot flatbed trailer has a fixed wide-spread air suspension, with bolt-on suspension hangers available. The lightweight trailer is outfitted with steel wheels and weighs 9,400 pounds with a 54,000-pound coil package and has an 80,000-pound gross vehicle weight rating; optional aluminum wheels enable a 300-pound weight reduction. All steel is hot-dip galvanized, and the floor sills, flooring and side rails are tensile-strength aluminum for added corrosion protection. Replacement parts do not require welding or painting.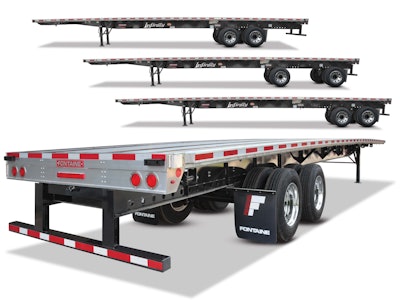 Fontaine Trailer's Infinity Superior Slide flatbed trailer features independent sliding axles and can be configured as a closed tandem set at the rear, a closed tandem set at the front, a full 10-foot spread axle and any combination in between. The trailer is constructed with steel crossbracing, fabricated steel mainbeams built with grade 130 flanges welded continuously on both sides, an aluminum floor and rear skirt and Fontaine's proprietary RASR routed aluminum side rail for added strength.

Transcraft's Coil Hauler uses a bolt-together rubber-lined cradle system with a total payload capacity of 90,000 pounds, making the trailer capable of transporting metal coils up to 80 inches wide while helping to protect freight from edge damage. A natural low center of gravity is engineered to provide a smoother ride and help minimize rollover. A canopy constructed of Wabash National's DuraPlate composite material helps protect freight and reduce loading and unloading times, while a removable bulkhead and optional load bars help provide backhaul versatility.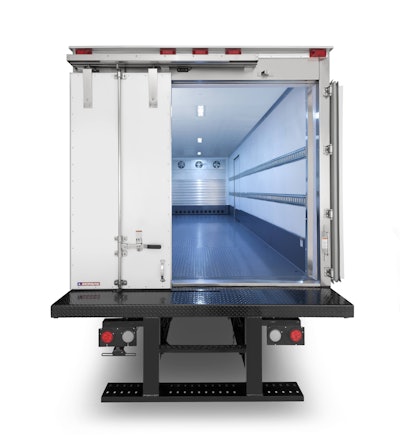 Finally, there's refrigerated truck body maker Morgan, which recently partnered with Dole Refrigeration for its Cold Plate system. The setup is powered electrically for more fuel-efficient and environmentally-friendly refrigeration.