The anchor story in the "Detention détente" multipart feature was published September 14, 2015, at this link.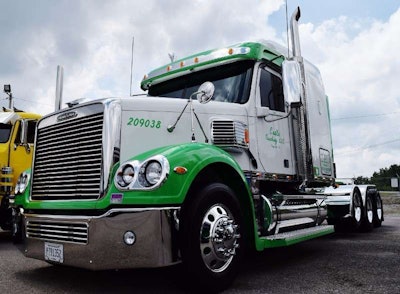 After a few years running under his own authority, flatbedder and heavy hauler Ben Cadle, owner of Cadle Trucking, decided to lease to Bennett Motor Express in 2011, becoming an agent for the carrier and bringing his customers with him. Though he readily acknowledges that detention issues are bigger problems for haulers of box trailers – he lives it, too, with 10 percent of his freight being paper products moved in a dry van – it's an issue on at least half of his nine-truck fleet's loads, he estimates.
Whether or not Cadle gets detention rates from the customer, "drivers know I pay after two hours to sit there," which makes it incumbent on him to negotiate rates upfront with the customer. He pays his drivers $14 to $18 hourly for detention, depending on seniority, and all of his regular shippers and receivers are aware of that. "If they don't have us unloaded in two hours," Cadle says, "I will bill X amount, and if it's heavy haul, it's more."
He determines rates using as a benchmark what he commonly charges hourly for local runs, covering the cost to operate any given hour (including driver pay, insurance and workers compensation), minus the cost of fuel, and allowing for some profit. Essentially, he hews to the method most operators indicated as fair in polling of readers at OverdriveOnline.com for determining detention rates to charge customers, a measure of profit per mile converted to a time-based rate, with fixed costs added.
Best basis for a fair detention rate?
The van portion of his business seems to be the least likely to ever pay detention, Cadle says. Half the time, appointment times are treated as if they didn't exist, he says. "It's that mentality – you've got to be there at a certain time, and you do get there, and they still won't unload you, and they won't pay you detention." If the whole industry demanded a change, "things would get better."
The pump is primed for it, he says. "When capacity gets even tighter – when electronic logs become a mandate – everybody will be absolutely insane if they don't take advantage of it. It will be a good opportunity for us to recover costs that we'll have to pass along to drivers to pay them to sit."