Being home on the weekends has been weird, because neither one of us has ever had a job that recognized weekends as anything other than another day to work. We're enjoying being able to have Saturday and Sunday off. We're very fortunate that the chassis run finals out three and a half hours from the house, so getting to the house hasn't been an issue recently. (Reason number nine million and forty two I love Landstar – George can schedule two trips a week, make decent money, and we make it home on the weekends. Yee ha!!)
That being said, those two trips are grueling, and there are a lot of people doing more than two a week, because they're not part-timing like the Parkers, taking weekends off. I have a great deal of respect for these people. George did it for the first month of the run, and it was not fun. No matter what route you take, the trip from Elizabethtown, Ky., to Dearborn, Mich. is a tedious exercise in avoiding Jersey walls, orange barrels and four-wheelers pinging off said walls like crumbly little pinballs that travel at the speed of light until they disintegrate and take everyone around them with them into interstellar space. (I'm going to say, once again, that split speed limits are the dumbest damn things I ever heard of, and whoever thinks it's a good idea needs some Carl Sagan and basic science in their life, stat.)
Needless to say, when we get home George wants to have a deep and abiding relationship with the couch for approximately 48 hours, before he has to go avoid crumbly pinballs again, and that would be great if we had magic elves to work on the truck and take care of the house, but we don't. So until I can conjure up a few, he gets to sleep in late on Saturday, and that's about it.
All work and no play makes George a dull boy (actually, he's never dull, but he doesn't smile as much, and that's no way to live), so we actually try to leave the house sometimes to do things outside of trucking. It's cool to be able to catch the festivals and spend time with friends outside the industry. As much as I love trucks and trucking, I also enjoy having friends who never mention electronic logs and parking.
Last week was especially difficult — it was like someone unleashed stupid at about two o'clock Wednesday afternoon, and it remained in charge on the roads until late Friday night. When he finally made the turn toward home Friday night, he made an appeal for his deep and abiding relationship with the couch.
"I'm not doing anything this weekend."
"The car show is Sunday."
"I don't wanna go."
"I already bought tickets and made plans with Shell and Doug."
"Dangit."
"It's not 'til Sunday, you can rest Saturday and we'll go have fun, look at some pretty cars and not talk about trucking at all, OK?"
"If I have to."
So we made a deal, and he got to watch the Buckeye game Saturday and we went to the car show with our friends, who have nothing to do with trucking, on Sunday. Let me just say the weather was exquisite and the show was incredible. If you ever get a chance to see the Concours d'Elegance car show at Carillon Park in Dayton, Ohio, do it. The collection is huge and diverse and it was worth every penny of fifteen bucks to see it.
As I wandered through the gorgeous old cars, this one really stood out, and I was compelled to skip a row of antique Triumphs to investigate the awesome paint job.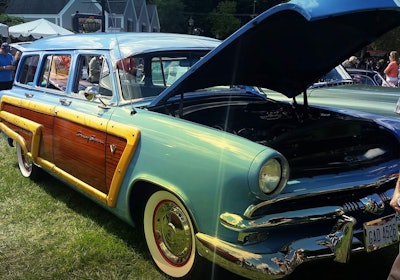 Not only have I decided we must own one of these cars, I know without a doubt that no matter where we are, we're never far from trucking.
Roll on, big trucks, and be safe out there.